Advanced Rectal Cancer Patient: I Choose Minimally Invasive Therapy over Surgery*
PHORNSACHI CHALERMPHAN, 72 years old, comes from Thailand. She was diagnosed with rectal cancer.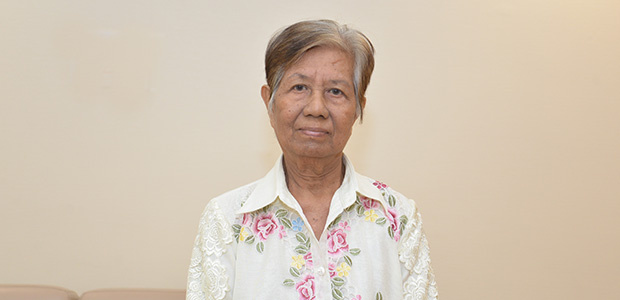 PHORNSACHI
In March 2019, PHORNSACHI CHALERMPHAN suffered difficulty in defecation and blood in the stool, of which she thought as symptoms of haemorrhoid and ignored them. Afterwards pain in anus urged her to take examinations. A colonoscopy, biopsy and CT scans indicated stage IV rectal cancer with metastasis to liver. The doctor suggested surgery and chemotherapy, meanwhile, colostomy bag should be applied. She rejected the proposal after consulting people who have received the same therapy and some even failed to survive. As a devout Buddhist, she kept a calm mind even with the suffering of the disease. She believes that cancer is treatable with a right treatment.
Her family members searched for a second option through various channels and consulted two local hospitals, which offered same solution as before. She rejected the suggestion once again and kept looking for other options. Every cloud has a silver lining, they searched about hospitals online and found minimally invasive therapy, which was available in St. Stamford Modern Cancer Hospital Guangzhou. Minimally invasive therapy, which requires no surgery and causes few side effects, gave the whole family hope.
PHORNSACHI's family immediately contacted the Bangkok office of St. Stamford Modern Cancer Hospital Guangzhou and took her to the office for consultation. The cancer expert suggested minimally invasive treatment in her case. After having a detailed understanding of minimally invasive technology, PHORNSACHI decided to go to China for cancer treatment.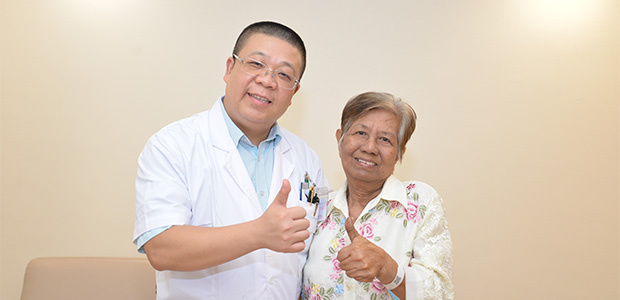 PHORNSACHI with attending Doctor Wang
On May 30, 2019, PHORNSACHI arrived at St. Stamford Modern Cancer Hospital Guangzhou. Based on her condition, the Multidisciplinary Team came up with a comprehensive treatment plan: interventional therapy, microwave ablation, and photodynamic therapy. "We didn't expect that I received treatment immediately after a full inspection, it usually takes longer time in Thailand." said PHORNSACHI.
"So far, I have taken four sessions of interventional therapy, one microwave ablation and one photodynamic therapy, and also targeted drugs. Two days after the first intervention, my bowel movement was normal."
"Most importantly, the tumor shrank and tumor markers have also fallen sharply." said PHORNSACHI. "Besides minimally invasive therapy, I also took traditional Chinese medicine as a supplement to reduce the toxic and side effects of Western medicine," her son added.
Before the admission in the hospital, PHORNSACHI and her family was worried about the language would be a problem in a foreign country.
Until they arrived at the hospital and knew that there were Thai interpreters on duty 24/7. Their concern was relieved. She also added that the doctors and nurses are also very caring and patient.
PHORNSACHI expressed her gratitude towards St. Stamford Modern Cancer Hospital Guangzhou and also to her family and friends, who were supportive during her cancer journey. In the end, she also encouraged other cancer patients, hoping that they would not lose confidence to fight against cancer.