Rejecting A Second Surgery, Indonesian Nasopharyngeal Cancer Patient Choose Minimally Invasive Therapy*
HERRY SUPARJAN, 49 years old, comes from Indonesia. He was diagnosed with nasopharyngeal cancer.
In Sept. 2011, HERRY SUPARJAN found lymph node enlargement on right side of the neck, which turned out to be nasopharyngeal cancer with metastasis.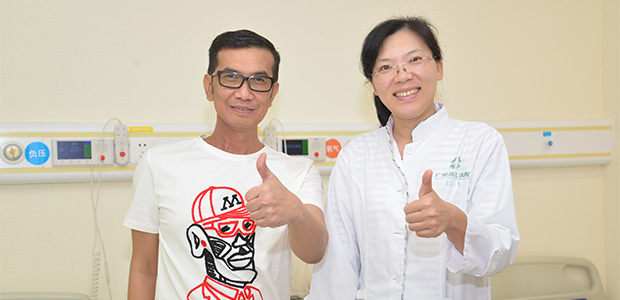 HERRY with the attending doctor
"I've received two surgeries, chemotherapy and radiation, but my condition was not relieved at all. During chemotherapy, I was tormented by severe side effects and my body was rather weak with hair, weight and appetite loss. Traditional treatment was obviously not a ideal solution so I decided to seek other options. Through other channels, I learned about minimally invasive therapy as an alternative option."explained HERRY.
Firstly being diagnosed in 2011, HERRY undertook tumor resection and chemotherapy according to doctor's instruction. He thought the tumor would be eradicated once and for all. Unexpectedly, a PET scans in June 2014 revealed recurrence of nasopharyngeal cancer with metastasis to right lung, for which he received another surgery and seven sessions of chemotherapy in Singapore. However, two surgeries and postoperation chemotherapy didn't help in his case. In Nov. 2018, he was diagnosed with multiple metastases with another lump detected under his jaw. HERRY was in desperation and refused to take one more surgery suggested by the doctor.
HERRY and his family tried their utmost to look for better cancer treatment. Back then, his wife searched about St. Stamford Modern Cancer Hospital Guangzhou and learned about advanced cancer therapies, professional doctors and patients'cases on its website. Advanced cancer therapies such as interventional therapy and particle implantation yield good result and cause few side effects. These therapies drew his attention as these were not available in Indonesia. Therefore, he consulted oncologist in Indonesia office of the hospital and made the decision of resorting to minimally invasive therapy in St. Stamford Modern Cancer Hospital Guangzhou.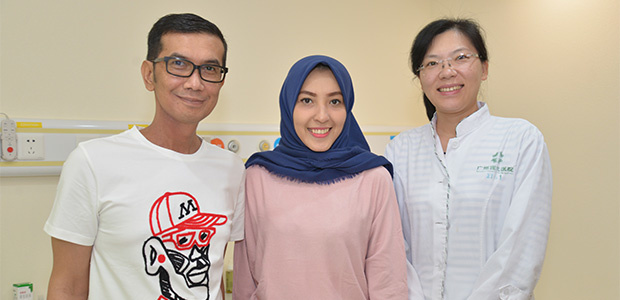 HERRY with his wife and the attending doctor
From June to September, HERRY received a combined treatment of interventional therapy, particle implantation and natural therapy, "after the third session of treatment, my condition was greatly improved and the neck tumor obviously shrank. I can barely see it now."said he.
It is his sixth visit and a CT scans indicated that cancer cells has disappeared and he gained improved condition. He and his family were overjoyed about the good result.
Before the discharge, HERRY shared his anticancer experience, he said, "Cancer diagnosis is misfortune, but it's not the reason to be upset about life. Keep a positive mind and fight against cancer."