Cancer Patients Shared Their Experience: Comprehensive Minimally Invasive Therapy Let Us Move Forward on the Journey of Fighting Cancer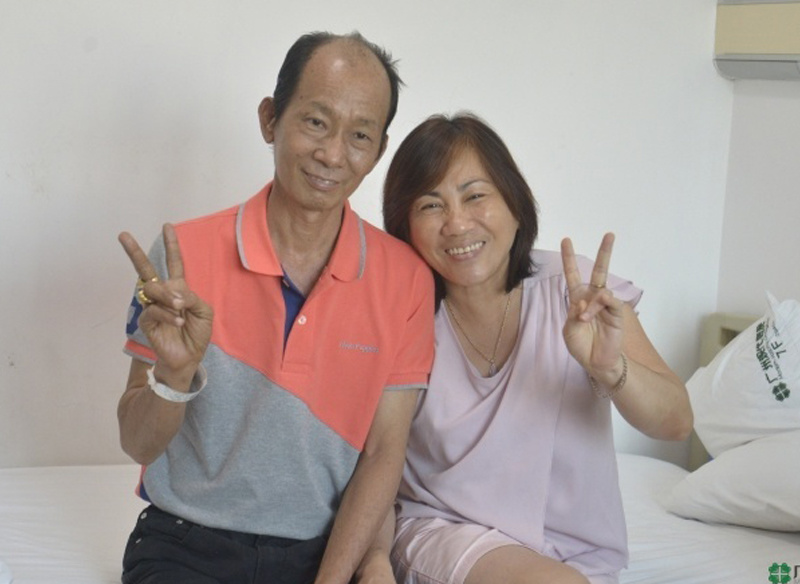 BASTARI Indonesia

Diseases:stomach cancer
Treatment programs:interventional therapy + photodynamic therapy
According to the statistics of the Health Department of Malaysia in 2018, the incidence rate of stomach cancer was about 13.9 cases per 100,000 persons, and mortality rate was 8.8 cases per 100,000 persons. For lung cancer, the incidence rate was about 46.6 cases per 100,000 persons and mortality rate was about 35.9 cases per 100,000 persons. For prostate cancer, the incidence rate was about 20.4 cases per 100,000 persons and mortality rate was about 4.6 cases per 100,000 persons. For nasopharyngeal cancer, the incidence rate was about 7.5 cases per 100,000 persons and mortality rate was about 3.6 cases per 100,000 persons.
In Malaysia, hospitals usually adopt a series of traditional medical technologies for tumor treatment such as surgery, electrotherapy and chemotherapy, etc. Don't the cancer patients have other treatment options? No! The 18 minimally invasive treatment technologies such as Interventional Therapy, Combined Knife, Particle Plantation, Nano Knife, etc can provide more options for cancer patients in middle and advanced stage who are reluctant to or unable to take surgery, radiotherapy and chemotherapy.
Can the minimally invasive comprehensive treatment really extend the survival period of cancer patients and improve their life quality? Let's hear the stories of below cancer patients with middle or advanced cancer who have already received the minimally invasive comprehensive therapies before.
Bastari: To Drive away the Darkness in Your Life, Light has Dawned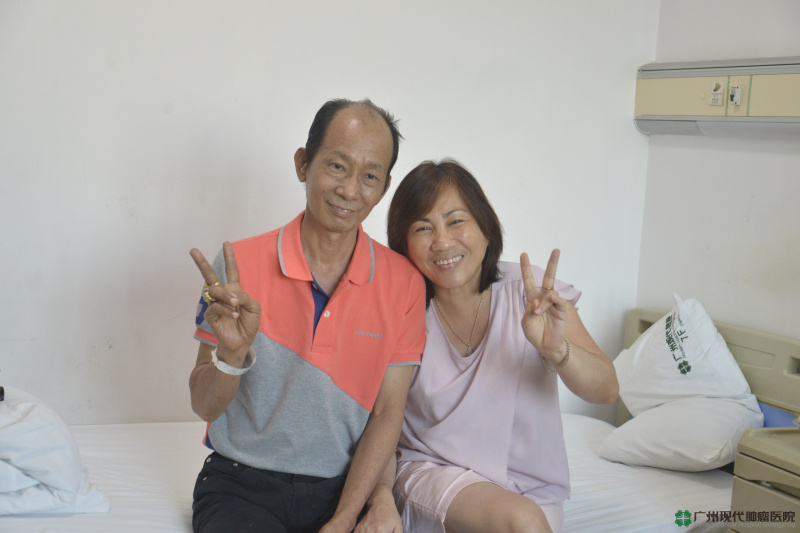 BASTARI
BASTARI was a stomach cancer patient from Jakarta Indonesia, in 2015, he had some discomfort in his stomach and felt painful and was diagnosed with stage III stomach cancer after check-up in Malaysia. His condition soon became serious in a short time, therefore the doctor suggested him taking resection operation and chemotherapy, but he refused. He knew cancer treatment had a certain difficulty and the traditional surgery and chemotherapy brought a great deal of damage to the body so he hesitated. With the encouragement and company of his wife and son, he became positive and tried their best to find other cancer treatment.
With introduction and treatment experience shared by an old friend of BASTARI, he chose and trusted the treatment technologies of St.Stamford Modern Cancer Hospital Guangzhou. Accompanied by his wife, BASTARI arrived in Guangzhou and sought for treatment. After Bastari taking the careful body check, MDT (Multidisciplinary Team) quickly made an individualized therapeutic regimen for him. After 4 sessions of Interventional Therapy and 2 sessions of Photon Knife, his tumor was shrunk by 80%. In the process of treatment, he did not show side effects; the appetite and sleeping were good.
After going this thrilling experience, Bastari now expresses great gratitude to life. He thanked you Dr. Lin Jing for here thoughtful care and thought highly of hospital's environment and service. In the future, he hopes to go around the world with his wife and wishes to help more cancer patients.
>> For more information about cancer therapy, please click to consult.
TJIOE SIN JEN: Thanks to Interventional therapy, my tumor has shrunk by 90%
TJIOE SIN JEN
TJIOE SIN JEN is a lung cancer patient from Jakarta Indonesia. He was once a brilliant teacher but had to leave the school and quit beloved job due to terrible lung cancer.
In 2016, TJIOE SIN JEN had been experiencing pain in his right chest and chest congestion frequently, so he had some checkups locally which showed that there was a tumor. He was diagnosed with lung cancer stage 4 and the cancer cells already spread to other parts of the body. He was totally shocked by the unexpected results. As a person with regular exercising habits, he didn't smoke or drink and exercised a lot, why he would get cancer? His life was threatened, which made him so nervous and painful but what's inside his heart was the passion to live.
TJIOE SIN JEN started to take medicines for cancer according to the local doctor's advice, at the same time, he tried hard to seek for other treatment choice. At this time, St.Stamford Modern Cancer Hospital Guangzhou gave him hope for the future, since the professional Multi-Discipilinary Team measured a treatment plan based on his condition. After 2 sessions of interventional therapy, the previous tumor measuring 2.4*7.5cm had shrunk by 90%, the pain in his chest seeped away gradually, and there were no obvious tumors in his right lung after CT scan.
The experience of fighting cancer has a great impact on TJIOE SIN JEN. He said that: " Even though you're diagnosed with cancer, you must have faith to survive. St.Stamford Modern Cancer Hospital will offer you good therapeutic effects just like what I received."
>> For more information about cancer therapy, please click to consult.
For lung cancer treatment: I choose to believe in authorative hospital and medical team with abundant experience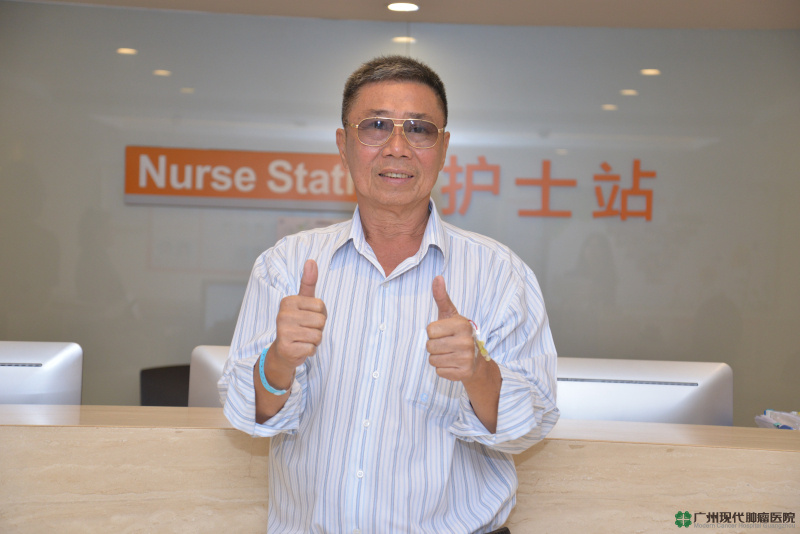 Amorn Jittapinitmas
Amorn Jittapinitmas is a lung cancer patient from Thailand. In 2019, he took a check-up in local hospital for symptoms like cough and pain in right back, but was informed that the final result showed he had right lung cancer of stage III, along with intrapulmonary metastasis and metastasis in mediastinal lymph nodes.
Since there were only traditional medical treatment methods for cancer in Thailand, such as surgery, radiotherapy and chemotherapy, Amorn didn't take any of them but chose St.Stamford Modern Cancer Hospital after comparison and understanding, for the hospital adopts 18 minimally invasive therapy technologies and has professional medical team, as a whole it created so many successful cases of cancer treatment. Finally he decided to seek for treatment in Guangzhou, China.
When admitted to the hospital, Amorn was in a poor status, the severe pain in his back forced him to rest in bed, but whether lying down or on one side, it could cause a serious pain in back. When coughing, the pain was intensified.
The Multi-Disciplinary Team measured an individual treatment plan based on Amorn's condition after discussion: a combination of particle plantation, interventional therapy, natural therapy and microwave ablation. After the comprehensive treatment, his back pain was relieved. Not only his condition was under control, tumor in his right lung had shrunk significantly, and the metastasis in other organ was disappeared.
Amorn said that: " The hospital has excellent medical team and advanced anti-cancer technologies, I hope other patients of this hospital could defeat cancer quickly by comprehensive minimally invasive therapy just as I did."
>> For more information about cancer therapy, please click to consult.
No Resection, Treating Advanced Prostate Cancer with Minimally Invasive Therapy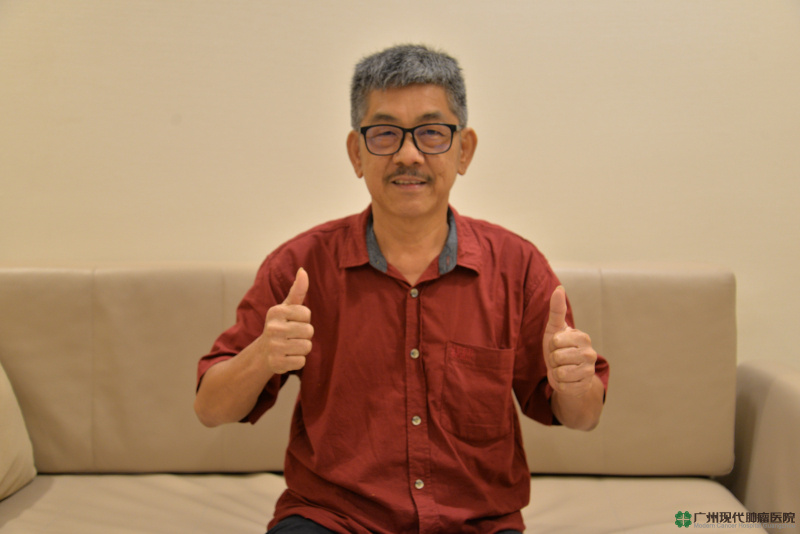 NG SWE CHIN
NG SWE CHIN is an advanced prostate cancer patient from Malaysia. He went to local hospital for check-up for the reason that symptoms like frequency of urinatior, incomplete emptying and felling pain while urinating had a great impact on his daily life. However, he was diagnosed with advanced prostate cancer with bone metastasis. Seeing the result, the doctor suggested him no suitable treatment since he was too old and it was too late for him to take any treatment.
For NG SWE CHIN, it was no way for him to give up his life in such a way, so he went to another hospital, and doctor recommended surgery and chemotherapy to him, but he rejected with the reason that his age and physical condition were not suitable for those traditional methods.
In dilemma, NG SWE CHIN knew from his secretary that St. Stamford Modern Cancer Hospital Guangzhou and its minimally invasive technology, which was very suitable for his condition and physical status. And a breast cancer patient shared her experience of treatment in the hospital, which also gave him faith to seek for treatment in Guangzhou China.
On his arrival, the Multidisciplinary Team (MDT) organized a joint consultation on his case, and based on his tumor progression and physical condition, they decided to conduct particle implantation and natural therapy for NG SWE CHIN.
Before his hospitalization, the tumor measuring around 8 cm, was oppressing and blocking his urethra, causing difficulty in urination, and his PSA was up to 25.6 ng/ml (Normal Reference Values: 4 ng/ml). After the first course of treatment, his tumor significantly shrunk, the difficulty and pain in urination disappeared. A month later, his PSA was down to 0.2ng/ml.
Once his family and friends rejected him for the option of taking treatment in St.Stamford Modern Cancer Hospital Guangzhou, but the truth showed that his option was right and he found hope for treatment in this hospital.
>> For more information about cancer therapy, please click to consult.
Interventional Therapy Makes Stage IV Nasopharyngeal Cancer Less Terrible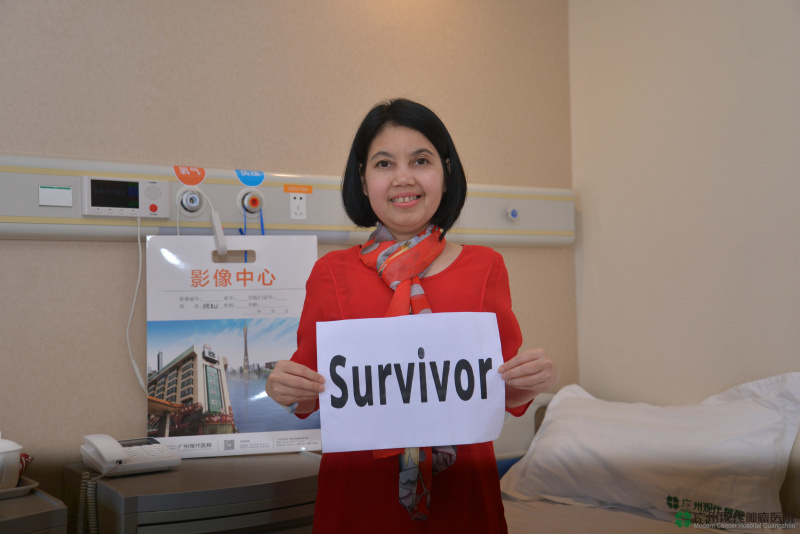 ANNI IBRIAH
ANNI was a nasopharyngeal cancer patient from Jakarta Indonesia. In September, 2014, tinnitus and block of the left nostril hit Anni Ibriah, so she just took them as the symptoms of common cold and didn't take any proper treatment. However, she was diagnosed with Stage III nasopharyngeal cancer in local hospital after a thorough check-up. ANNI couldn't accept the truth and tried to check-up in other hospitals but it didn't change the fact of getting cancer.
Though the terrible news crushed her, but ANNI and her husband didn't lose faith and visited all the good hospitals, but almost all doctors suggested her undergoing radiotherapy and chemotherapy immediately, whereas when she learned that systemic radiotherapy might cause lots of side effects. She and her husband refuse these treatments.
Fortunately, Anni's husband learned something about St.Stamford Modern Cancer Hospital Guangzhou from Internet, and knew that this hospital has international expert team and advanced minimally invasive treatment technologies for tumor treatment. Accompanied by her family, ANNI arrived in Guangzhou China, but she didn't realize that it developed to stage 4 nasopharyngeal cancer in just two months. The treatment was of great urgency.
According to Anni Ibriah's condition, Multi-Disciplinary Team of the hospital decided to adopt interventional therapy for her. After 2 sessions of interventional therapy, "My tinnitus and nasal block disappeared, and besides the hard lump became soft and smaller, which comforted me a lot." ANNI said happily. "Never give up and carry on your treatment, keep a good dietary habit and daily life, you will get better!" Before discharged from hospital, ANNI encouraged other cancer patients to defeat cancer together!
>> For more information about cancer therapy, please click to consult.