Value-added Services
As an internationalized hospital that has passed JCI accreditation twice, St. Stamford Modern Cancer Hospital Guangzhou adhering to the principle of "All Patient-centered" and attaches great importance to the various needs of patients and their families. In order to provide you with high-quality, efficient and caring medical services, after 19 years of construction, our hospital has successfully built up a high-quality, multi-project and full-coverage service system.
When you arrive at St. Stamford Modern Cancer Hospital Guangzhou, we will do our best to meet your diverse needs, including medical needs, interpreter needs, nutritional dietary needs, living needs, leisure and entertainment needs, and travel needs, providing you with more choices for your leisure life during your hospitalization.
Free translation service
In order to facilitate doctor-patient communication and to meet your needs during your hospitalization, our hospital has established a Translation Department, which is committed to providing high-quality multi-language free translation services for international patients. We provide 24-hour translation services in various languages, and patients and family members can contact the staff on duty if necessary.
Free 24-hour translation

ree multi-language translation service 24-hour translation service in various languages

Multilingual translation

professional translation services in English, French, Indonesian, Vietnamese, Thai, Bengali, Cambodian, Arabic, Mongolian, etc.

Assist in the whole process

assist doctors and nurses in admission of patients, cooperate with doctors in daily ward rounds, communication and explanation of treatment plans, accompany patients in surgery, delivery of treatment and inspection.

Document translation

patient discharge summary, examination results, translation of patient's own medical history, insurance policy filling and other translations, etc., as well as assisting with other value-added services
Free airport transfer service
We offers free airport transfer service to every patient coming for treatment and the family accompanied. Patient before coming contacts the overseas offices or staff in hospital, and registers the information like flight number, time of the flight arriving at Guangzhou Baiyun International Airport and numbers of attendants. Airport transfer team consists of medical staff, driver and translator. Please contact our people in overseas offices in advance if any special requests. When you are discharged, we will also arrange a vehicle and staff to take the patient and accompanying family members to the Guangzhou airport free of charge.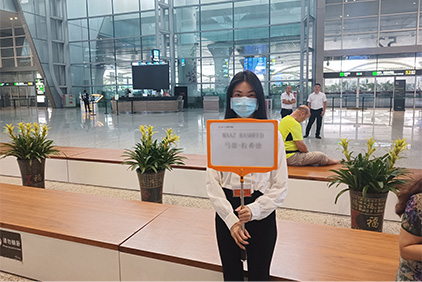 Business service
Air-ticket and excursion ticket ordering

Air-ticket change, visa extension and change service

Hotel reservation

Fax, printing, copy and scanning service

Business information consultancy service
Dietary service
Reasonable diets plays significant role in treating disease and rehabilitation of a patient, and is the necessary part of modern comprehensive treatments for diseases. Modern Hospital has Dietary Department which consists of nutrition professionals to offer qualified nutrition instruction.
1、Professional nutritionists carry out regular rounds and nutrition consultation
2、Special nutrition plan based on patient's physical condition.
1、Our hospital has set up public self-service kitchens on the corresponding floors
2、We provide cooking facilities such as micro-oven, electromagnetic oven, refrigerator and cookers, Patients and family can cook the food according to their flavors.
Life Services
Free laundry service

Free clean wards

Wireless network WIFI

Free umbrella rental service

Order the necessary daily necessities, etc.
Hospital Environment
The hotel provides independent rooms, ensuring your privacy and allowing you to enjoy a family atmosphere with 24-hour family company;
There are various rooms provided, including cosy standard room, Western style VIP room, Chinese style VIP room, VIP luxury suite, each of which is equipped with independent bathroom and some of them are with small kitchens;
Aside from above equipment, there are also television, refrigerator, water dispenser, phone and 24-hour free internet in the rooms. If needed, one more bed can be added. In case of special needs, you can also ask the nurses for them;
Considering some patients' needs and to make your hospitalization enjoyable, the hospital also has set up a coffee bar.
Leisure and entertainment services
Our hospital highly respects the cultural concepts, religious beliefs and national customs of international patients. In order to meet your holiday needs, every major holiday (New Year's Day, National Day, religious festivals) in China or the patient's country, our hospital plans colorful holiday celebrations from time to time to organize patients and their families to celebrate the holidays, feel the warmth of family, and add color to your medical journey.
Festivals celebration

On big days like New Year, National Day, Religious holidays, the Kings' birthdays, we organize the patients and their families to celebrate the festival and send gifts.

The Mandarin Class

We have mandarin lessons for our patients and their family members whose native languages are like English, Indonesian, Vietnamese.etc to lean basic mandarin for daily communication.

Activities for health

We organize activities like Tai Chi, Wu Qin Xi, Baduanjin qigong and Yoga to guide patients and their family members to take proper exercises.

Monthly "Anti-Cancer Warrior" election and award

Our hospital conducts the "Anti-cancer Warrior" selection every month, the number of selection is three. Patients join together and share their anti-cancer experience each month. They exchange the positive energy and attitudes to strengthen their anti-cancer faith and encourage each other.

Patients' club

In order to help patients build a healthy and positive attitude towards disease, we set up the Patients' Club. During the hospitalization, patients can relax in the club like chatting with new friends, drinking tea, playing chess and poker, watching TV, watching movies.etc

Climbing Baiyun Mountain and singing at the mountain

The hospital occasionally organizes patients to climb the Baiyun Mountain and sing at the mountain to relieve their loneliness in a foreign country.

Movie viewing once a week

Every Tuesday, 19:00- 20:30, 9th floor "Modern Cinema" plays the latest movies for patients
Medical tourism services
In order to meet the leisure and cultural needs of patients and their families, our hospital organizes one-day trips or shopping trips to Guangzhou from time to time, leading patients and their families to visit the many scenic spots in Guangzhou, enriching the spare time of overseas patients and their families, allowing you to relax physically and psychologically and to learn about the culture of Lingnan in the spare time of medical treatment, and creating more beautiful memories for your medical trip.