With Minimally Invasive Treatment,a 64-year-old Rectal Cancer Patient Was Reborn!
Views:158
2023-09-13
Share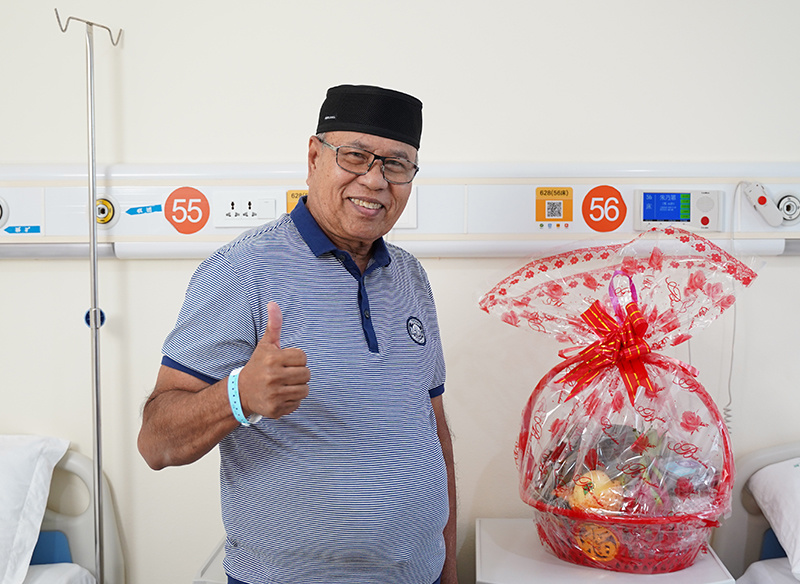 Nurdin Indonesia

Diseases:Colorectal cancer
Treatment programs:interventional therapy + local radiotherapy + naturopathy.
The 64 years old man, he wears a black bowler hat, hale and hearty, and his smiling eyes are glittering with friendliness and determination. His name is Nurdin, from Dumai, Riau Province, Indonesia, This is the first time he returned to St. Stamford Modern Cancer Hospital Guangzhou for follow-up consultation after the pandemic, and his journey of battling with cancer has come to the 6th year.
Actually , his battle with cancer was declared a preliminary victory 3 years ago. the results of this follow-up visit show he has now "won the battle". (Read more about Nurdin's previous story here)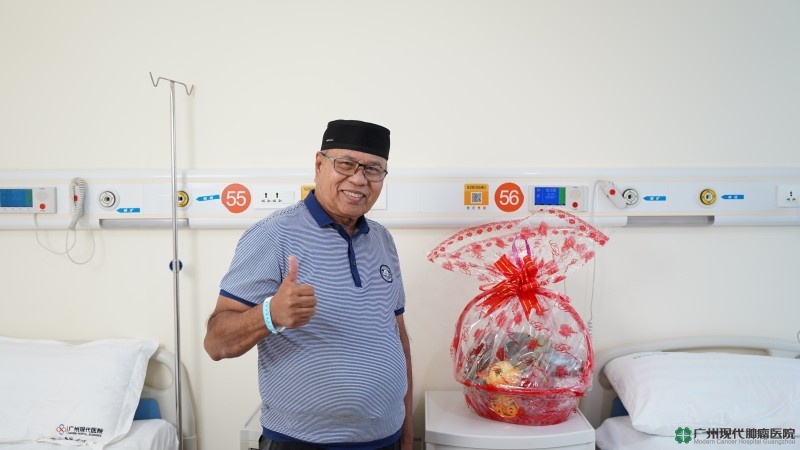 (Nurdin)
Minimally Invasive Treatment Help a 64-year-old Patient Defeat Rectal Cancer
In October 2017, Nurdin showed symptoms of blood in his stool and pain, and was diagnosed with stage 2 rectal cancer in a Malaysian hospital. Local doctors suggested he undergo laparotomy, Considering his age and the relatively high risk of surgery, he and his family declined the offer, At this time, Nurdin learned that his nephew had suffered from lymphoma and achieved good results after treatment at St. Stamford Modern Cancer Hospital Guangzhou , which gave them a ray of hope.
After searching on the internet, they found that there is an office of this hospital in Medan, Indonesia, and arrived at the office for consultation. "At the Medan office, the doctor carefully explained the treatment plan and the principle of the technology to me through remote consultation, which eliminated my concerns, so I decided to go abroad and receive minimally invasive treatment." He recalled.
In December 2017, Nurdin was admitted to the hospital, due to the advanced age and the tumor was growing in a complex organ like the rectum,after examination, the hospital's MDT medical team formulated a treatment plan combining interventional therapy with local radiotherapy and naturopathy.
Interventional therapy, which is the use of vascular intervention combined with embolization therapy, will directly infuse anti-cancer drugs into the blood supplying arteries and blood vessels of the tumor to kill the tumor, which has the advantages of fewer side effects, less traumatic, quicker recovery, and stronger targeting, is suitable for patients who are not suitable for surgical treatment. To Nurudeen's surprise, after two interventions, his abdominal pain was significantly reduced, and slowly, the blood in his stools disappeared. These signs of improvement made him even more determined to fight cancer to the end!
Between January 2018 and April 2019, Nurdin came back to St. Stamford Modern Cancer Hospital Guangzhou for treatment on a regular basis, and actively cooperated with the doctor's treatment plan.
In January 2020, he went back to the hospital for follow up . From the results of CT, MRI and colonoscopy, the tumor in his body had relieved and there was no sign of recurrence of the lesion, so he only needed to have regular follow up in the future. With minimally invasive treatment, he had initially "defeated" rectal cancer.
Great News After Three Years Of Follow Up Visit
Due to the ravages of the pandemic, international communication channels were blocked and Nurdin was unable to return to the hospital for follow up. In the past three years, he has not suffered any physical discomfort, just maintains the habit of taking his medication on time. He runs his own business, will walk to the company every day to make some rounds, leisure time with family, sharing the joy of heaven,the previous days of bouncing from place to place and traveling for medical care have finally come to an end.
In May 2023, he back to St. Stamford Modern Cancer Hospital Guangzhou for follow up. on After admission, he finished endoscopy and other tests, which showed no physical abnormalities and the doctor said he could live and work as a normal person. This news made him and his family very happy.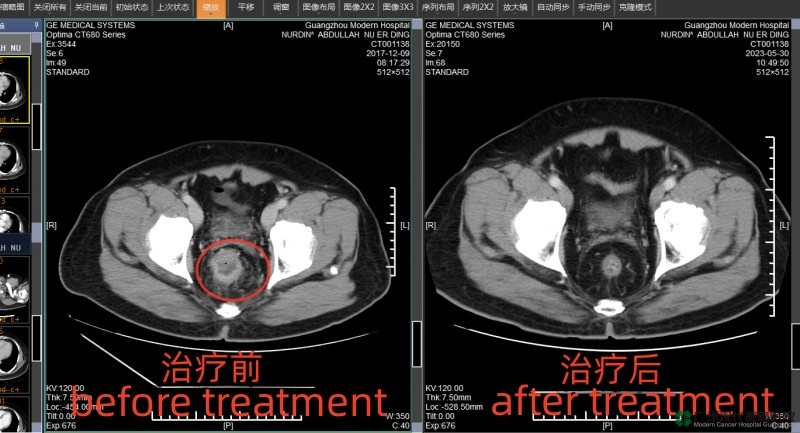 (2017 CT results vs. 2023 CT results)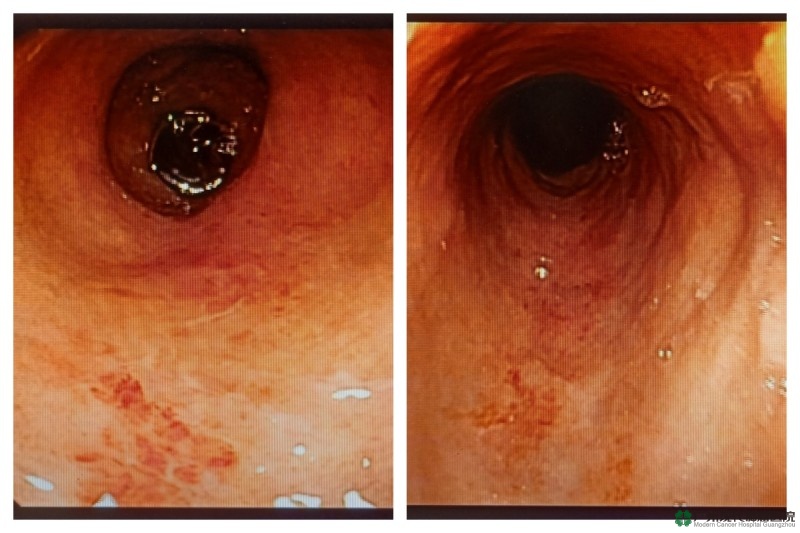 (latest colonoscopy)
He said happily, "On the road to fighting cancer, I am not alone, my family members accompanied me all the way through the tough fight against cancer, and when they heard the good news, they all felt my happiness." Nurdin's son-in-law has been with him during these years of treatment, taking care of his food, clothing and transportation, make him doesn't feel alone even in a foreign country.
Attentive Medical Staff, Meticulous Service
Nurdin attributes the miracle that happened to him to the medical staff of St. Stamford Modern Cancer Hospital Guangzhou. He said sincerely, "I am very grateful to the medical staff and interpreters, without their smiles, treatment techniques and excellent services, patients could not resist loneliness alone. They not only provide treatment and services, but also give me hope to live."
Returning to the hospital after three years, Nurdin felt very happy, He said this place is a unique presence for him, "A few years ago, when I was treated in the hospital, there was a nurse who took care of me all the time, and I was impressed by her thoughtfulness and lack of care. I am so happy to see her again this time, and seeing her just like seeing my own child."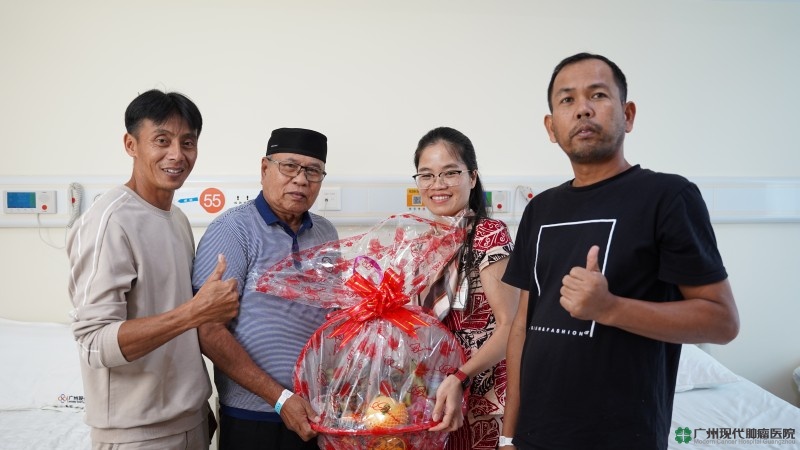 (Nurdin with his families and hospital translator)
And the medical tour organized by the hospital was valuable. "I feel very happy to be able to participate in hospital-organized medical tourism during my treatment. It allows us to escape from our illness for a while and get relax."
For cancer patients, he emphasized the significance of patience, courage and optimism. "Although the road to fighting cancer is difficult, we must calm down, face and fight with cancer bravely and bravely. Keep an optimistic attitude at all times, don't let yourself lose to cancer"