Combined Knife: A Raised Sword Accurately Inactivates the 10CM Tumor
Views:142
2023-09-13
Share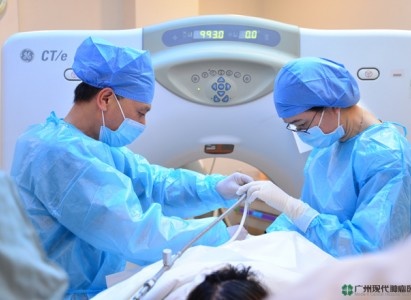 Ms. Li China

Diseases:spindle cell sarcoma
Treatment programs:Combined Knife
On March 7, led by Dai Wenyan, the director of the 1st Oncology Department in our hospital, with the full cooperation of colleagues from the Minimally Invasive Surgery Department and CT room, we successfully carried out the first case of ablation with the new technology of minimally invasive tumor treatment "Combined Knife" in our hospital. Currently, the pelvic sarcoma patient who received the "Combined Knife" treatment embraces her good treatment effect and stable health condition.
Ms. Li, a 40-year-old patient who was treated by the Combined knife that day, was unfortunately diagnosed with spindle cell sarcoma three years ago and subsequently underwent surgery to remove it. She thought everything would be fine after the surgery, but unexpectedly the nightmare came again. At the end of last year, Ms. Li had foreign body sensation in her abdomen and pelvis, along with pain in her left leg, which became more and more obvious. The pain and discomfort made her restless. Later, a review confirmed that the spindle cell sarcoma had recurred! The pelvic mass was about 10 cm in size, invading the left gluteus maximus and compressing the nerves in the leg.
Director Wenyan Dai performs Combined Knife ablation on patient
After comprehensive consideration, Director Dai Wenyan decided to perform the "Combined Knife" cold and thermal ablation for the patient. Director Dai Wenyan introduced, the "Combined Knife" is not a real knife, but an ablation probe with a diameter of only 2 mm, which can switch between the extremely low and high temperatures of -196℃ to 80℃, and implement a more complete killing of the tumor through the alternating cold and thermal ablation.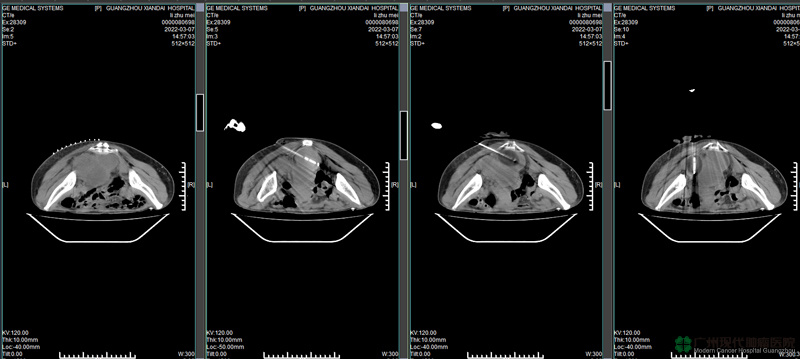 Preoperative and intraoperative CT contrast photos
"This patient had a post-operative recurrence of sarcoma, which was quite large and invaded several pelvic organs and could not now be completely removed by traditional surgery. That is why she was given the option of Combined Knife ablation. The scope of single-needle ablation by Combined Knife is large, reaching 4.5-6CM in diameter, which is ideal for her present condition. This reduces the number of punctures and complications while easing the patient's financial burden. In addition, the Combined Knife achieves a combination of deep cryotherapy and high-intensity thermotherapy, which is generally better tolerated by patients." Director Dai explained that "through the Combined Knife ablation, 90% of the patient's mass can be effectively ablated, we can control the tumor, so we can fight for more good transformation and follow-up treatment opportunities for patients. It can also effectively prevent tumor complications such as intestinal obstruction, urinary tract obstruction, and leg immobility."
During the first post-operative morning round, patient Ms. Li said when she saw Director Dai Wenyan, "I feel much more comfortable today, I can feel my whole leg, it's much more relaxed, and I was able to sleep peacefully last night! I think this cryoablation is much better, I didn't feel any discomfort during the surgery yesterday, I was awake the whole time."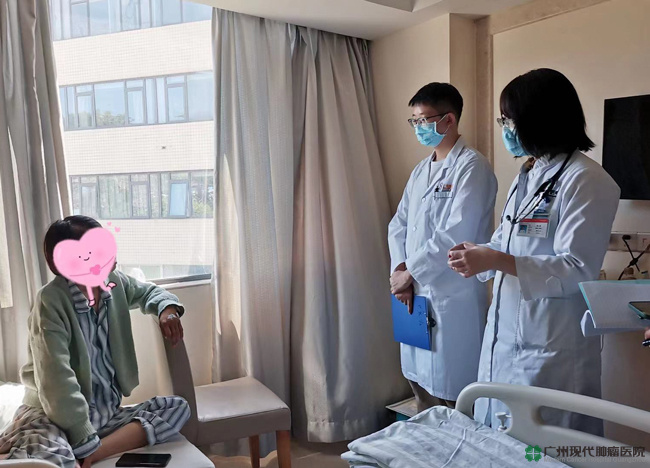 Among the minimally invasive tumor therapies in recent years, ablation has been applied quite a lot and can have good therapeutic efficacy, such as Argon-Helium Knife Cryotherapy and microwave ablation. Now, the Combined Knife, independently developed by the Technical Institute of Physics and Chemistry CAS, is a high and low-temperature compound tumor minimally invasive treatment device, which can realize two alternating cold and thermal cycles of minimum temperature -196℃ and maximum temperature of 80℃ within 20 minutes. The procedure does not require general anesthesia, and patients can be treated without obvious pain. It can treat more than 80% of solid tumors, including lung cancer, liver cancer, pancreatic cancer, kidney cancer, prostate cancer, breast cancer, etc.
St. Stamford Modern Cancer Hospital Guangzhou specializes in the minimally invasive treatments of tumors for 16 years and now introduces Combined Knife Cold-thermal Complex Ablation to provide more and more individualized treatment plans for tumor patients, bringing new hope to patients who have lost the chance of surgery.