Tumor still remains inside the 81-year-old body after 5 sessions of chemotherapy, but killed by Combined Knife treatment
Views:101
2023-09-13
Share
Mr. Sun China

Diseases:lung cancer
Treatment programs:Combined Knife
It's approaching the time for ward round of doctors in the morning, however, Mr. Sun from Oncology Department of St.Stamford Modern Cancer Hospital Guangzhou was still taking a walk casually along the corridor. If without informing, we believe that no one will know this octogenarian man is a lung cancer patient who has just took minimally invasive treatment with Combined Knife the last day.
Mr. Sun is 81-year-old this year, he is a local Cantonese who lives in Haizhu District of Guangzhou. After retirement many years ago, he has been enjoying a life at home with grandchildren and sharing a family bond. Unfortunately, he was diagnosed with small-cell lung cancer in right lung after body check-up in a local hospital in November 2021. His family were all shocked by the terrible news, so his son and daughter went back home in a hurry, trying to search for hospital and appropriate anti-cancer method for him.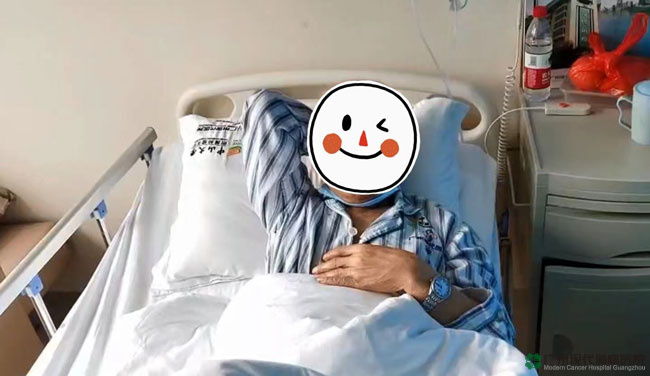 After all, since Mr. Sun was senior in age, his children were not willing to let him take radical treatment, so they eventually chose chemotherapy to fight cancer. In order not to be a burden for his children, Mr. Sun kept a positive attitude to fight against cancer and bravely endured the uncomfortable feelings of side effects caused by 5 sessions of chemotherapy. Unfortunately, the tumor in the thoracic wall of his right chest had shrunk, but it still remained a part measuring 4CM*1.8CM. The attending doctor suggested that he should take combined radiotherapy treatment to deal with this stubborn tumor, but Mr. Sun and his family rejected the suggestion. They knew about St.Stamford Modern Cancer Hospital based on an acquaintance's recommendation and decided to let Mr. Sun take minimally invasive therapy after thorough consideration.
Given that Mr. Sun is over 80 years old and he has basic diseases like hypertension, also with a remaining tumor measuring 4CM*1.8CM after 5 sessions of chemotherapy, the MDT team headed by Prof. Dai Wenyan, Director of the Oncology Department of our hospital, reached a consensus that combined knife was more suitable for him. On March 30, Prof. Dai carried out Combined Knife ablation treatment for Mr. Sun. Under the guidance of CT scan, the ablation probe was precisely inserted in the tumor area, after 2 cycles of switching from minimum temperature -196℃ to maximum temperature 80℃, the tumor inside thoracic wall was ablated.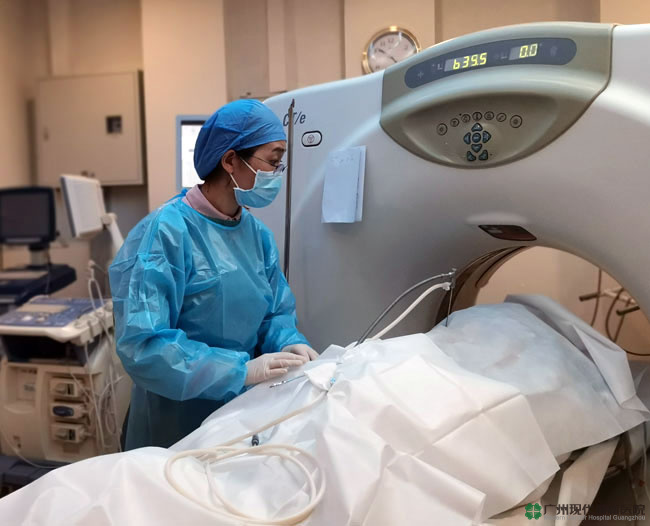 " The minimally invasive surgery is very challenging for us this time, for the patient is in senior age, and the tumor has invaded his pleura, we worried that it may cause adverse reactions for him such as pain or aerothorax." Prof. Dai explained that. "Therefore, we had made good preparation before surgery, the whole process was very smooth, Mr. Sun didn't feel any pain during the surgery, the amount of bleeding was about 10ml, aerothorax didn't happen in or after surgery."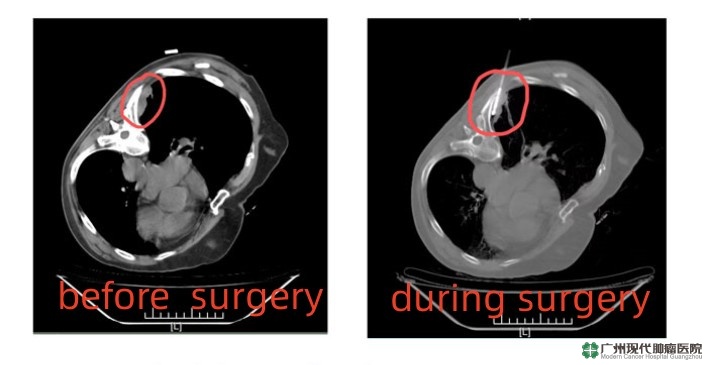 CT scan before surgery and during surgery
Mr. Sun can consciously breath much smoothly after surgery. "It went well for me that day. Now I seldom cough, my diet and sleep are both good, when I'm free, I'll walk along the corridor as a light exercise. I'll be discharged from the hospital in two days!" Mr. Sun said with a smile during ward round.
There are many cancer patients who can't take traditional operation or chemoradiotherapy due to physical condition. Minimally invasive therapy offer them more choices and raise hope for them. Elderly cancer patients like Grandpa Sun are the typical examples.
Combined Knife is the latest generation of cryotherapy which is applicable for more than 80% of the solid tumors. It can be conducted alone or with surgery or chemoradiotherapy, so it's of high flexibility. According to the latest research paper, after the treatment of Combined Knife, it will produce new antigens in patients' bodies and enhance therapeutic effect of their immune treatment, so as to create more opportunity for them in the future by combing Combined Knife with the immune therapy!