Minimally invasive treatment helps him beat rectal cancer as 10cm tumor disappears
Views:139
2023-09-13
Share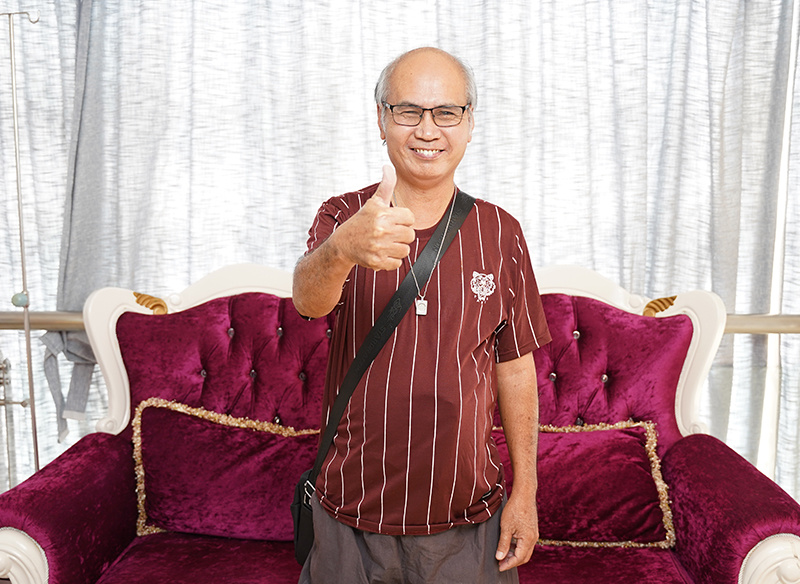 HENDRY ANGGLES Indonesian

Diseases:Rectal Cancer
Treatment programs:interventional therapy + particle knife + gene targeted therapy
"In Indonesia, there are very few local doctors and you can rarely see them, but in Modern Cancer Hospital Guangzhou, I can find a doctor whenever I want and the hospital provides me with comprehensive medical services, whether it's the treatment plan, daily ward round, or medical services, which are all very good compared to Indonesia." When asked how Modern Cancer Hospital Guangzhou is different from the treatment he received locally in Indonesia, HENDRY ANGGLES replied.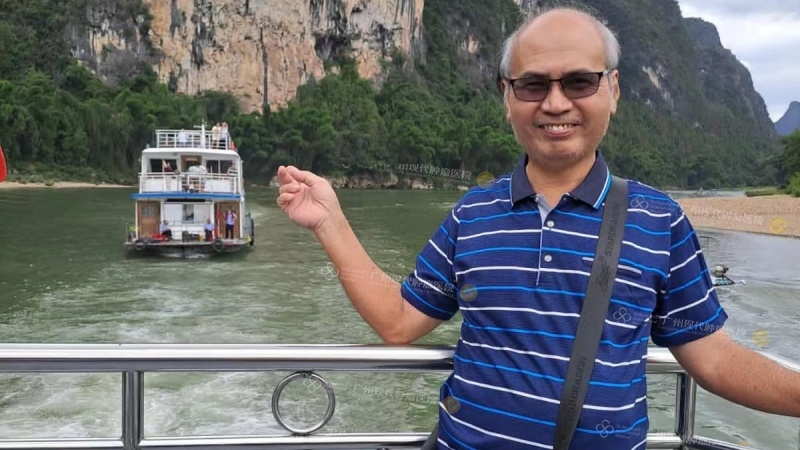 Everyday Life Photo of HENDRY ANGGLES
8cm, a ray of light and a tribute to his perseverance
"At that time, I couldn't even lie down flat, I could only sleep on my side, and there was also bleeding and anal pain that occurred, which felt very painful to me." HENDRY ANGGLES recalls the discomfort his body experienced due to rectal cancer. HENDRY ANGGLES, 62, is a stage IV rectal cancer patient from Surabaya, Indonesia. In July 2016, HENDRY ANGGLES, who had always been in good health, experienced these symptoms. After going to a local hospital in Indonesia, HENDRY ANGGLES was diagnosed with stage IV rectal cancer. To add insult to injury, local Indonesian and Malaysian doctors advised him to undergo surgical resection, but HENDRY ANGGLES refused the surgical treatment option, considering the possible risks involved.
In this regard, HENDRY ANGGLES's children did not give up the opportunity to seek treatment, and eventually learned through the network search that St. Stamford Modern Cancer Hospital Guangzhou has minimally invasive integrated treatment technology, which can avoid the risks associated with a monotherapy. After careful consideration and deliberation with his family, in November 2017, HENDRY ANGGLES came to our hospital with determination accompanied by his family. After detailed examination, HENDRY ANGGLES was found to have a tumor of about 8*10 cm in size in his rectum and was diagnosed with stage IV rectal cancer.
For HENDRY ANGGLES's condition, the MDT team of our hospital customized a comprehensive treatment plan of "interventional therapy + particle implantation + targeted therapy". According to Dr. Hu's introduction, for the main tumor area inHENDRY ANGGLES's body, interventional therapy is used as the main means of treatment. Through vascular intervention combined with embolization, anti-cancer drugs are directly infused into the tumor to kill the tumor, which has the advantages of high targeting and few side effects. As for the surrounding tissues infiltrated by the tumor, particle implantation is adopted, in which the appropriate amount of 125 iodine particles are implanted into the target area to accurately kill the cancer cells by releasing gamma rays through the particles, which is highly safe, and finally supplemented with targeted therapy to interfere with the growth of the cancer cells, so as to curb the second recurrence of the tumor. The above three modes of treatment together can well killing cancer cells, better improving the quality of patients' survival and prolonging their survival period.
Between 2017 and 2020,HENDRY ANGGLES traveled back and forth between the two countries many times, cooperating with the hospital step by step to control his condition, until the last CT examination in 2020, which found that the tumor in his rectum had been successfully shrunk from 10cm to 2cm, and the tumor was under very effective control. This shrinkage of 8cm is the hope brought by minimally invasive treatment toHENDRY ANGGLES, which is more like the praise from God for him to seek medical treatment across the country and fight against cancer with the mentality of not giving up. Thus,HENDRY ANGGLES's cross-country medical journey officially came to an end.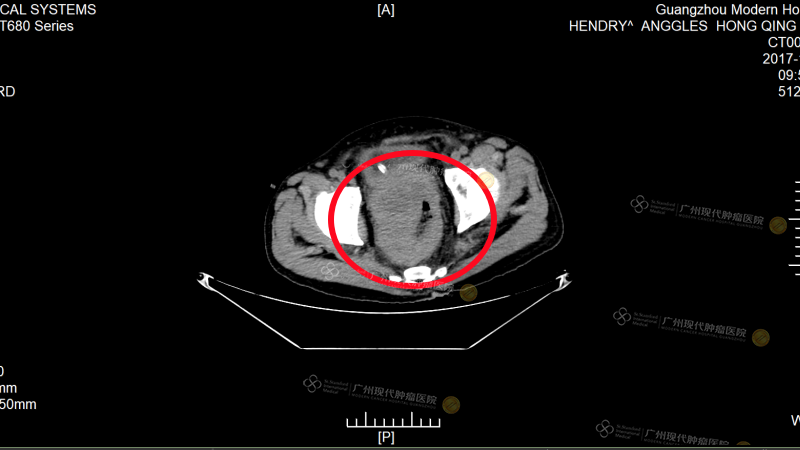 CT image of HENDRY ANGGLES's initial visit to the hospital in 2017
Receiving a miraculous surprise at a return visit after four years
After HENDRY ANGGLES had his last CT scan in 2020 and found that his tumor was under effective control, he returned to his home country to recuperate and wait for his next review. However, the day after his return, the communication channel between the two countries was closed due to the pandemic, making it hard for him to complete his subsequent return to the hospital for review.
"During this time of resting at home, I didn't even take any medication, but made selective intake in terms of food, such as less oil and so on, and also proper exercise, frequent sunbathing and all these." When asked about how to live and regulate during the time when he could not be reviewed at home, HENDRY ANGGLES answered so. "Because I know that the treatment of cancer not only rely on doctors and technology, their own habits, eating habits, these need to be adjusted to assist the treatment, in order to better improve the efficacy of treatment."
On June 22, 2023, after four years, HENDRY ANGGLES still firmly chose to come to Modern Cancer Hospital Guangzhou for return visit. According to HENDRY ANGGLES's description, whether he is working or other activities at home, he is basically the same as normal people, the overall condition is very good, so in order to further confirm the situation of the tumor in his body, he deliberately went to our hospital for return visit. After the examination, it was found that the tumor in the rectum of HENDRY ANGGLES had miraculously disappeared, and this news made HENDRY ANGGLES and his family very happy. "I still remember the first time I checked, I didn't dare to listen to the result, it was my family who went to understand, but this time I was brave to face it, and the result was very happy, Dr. Hu was really great! I am also very grateful to my wife and children, who have been by my side for so many years and have been with me through this difficult time." Recalling the situation when Dr. Hu told him about the test results, HENDRY ANGGLES said with a smile as a trace of pride flashed across his face.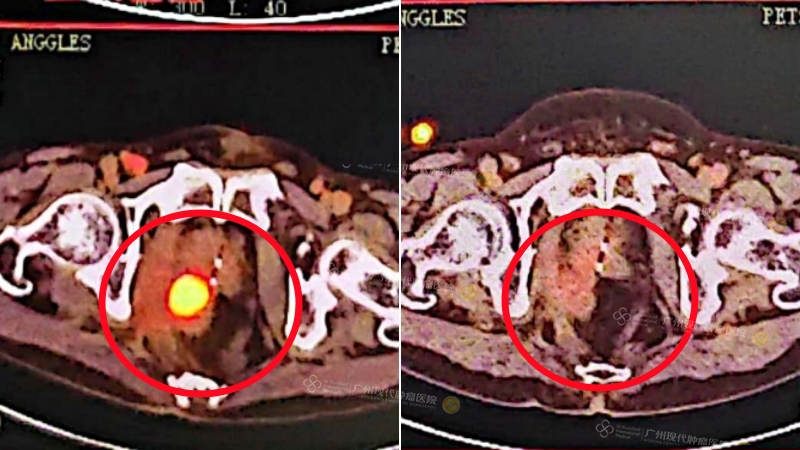 2cm tumor at the time of discharge from the hospital in 2020 .
The tumor had disappeared by the time of return visit in 2023 .
"Special thanks to Dr. Hu and all the medical staff on the 8th floor, as well as other staff at the hospital, for the hospital's technology and services, which are all very good, especially when coming to the hospital for the first time to do interventional therapy, the effect is especially obvious." HENDRY ANGGLES excitedly expressed his experience and gratitude to the interviewer.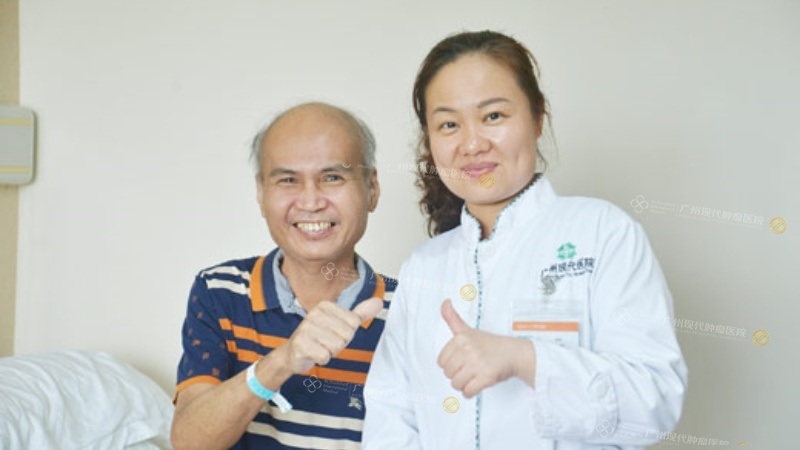 A photo of HENDRY ANGGLES with Dr. Hu Ying
HENDRY ANGGLES with his family and interpreter
HENDRY ANGGLES then expressed his wishes to cancer patients like him and recounted his experience of being treated at Modern Cancer Hospital Guangzhou. "As for other tumor patients like me, you can really trust Modern Cancer Hospital Guangzhou, you can contact the hospital through the local office and come to the hospital for treatment. At the same time, I also hope that all tumor patients, in the face of cancer must have patience, be calm and brave to face the disease, you have to believe that you are not alone, there are your family and friends, and doctors and nurses in the hospital, everyone is with you."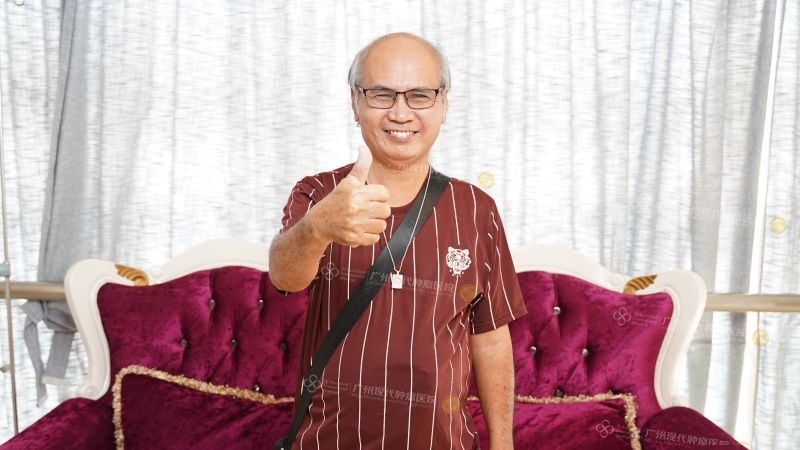 HENDRY ANGGLES gives an excited thumbs up to the camera