Comprehensive Minimally Invasive Treatment Helps an 18-year-old Indonesian Boy with T-cell Lymphoma Successfully Fight Lymphoma
Views:159
2023-09-13
Share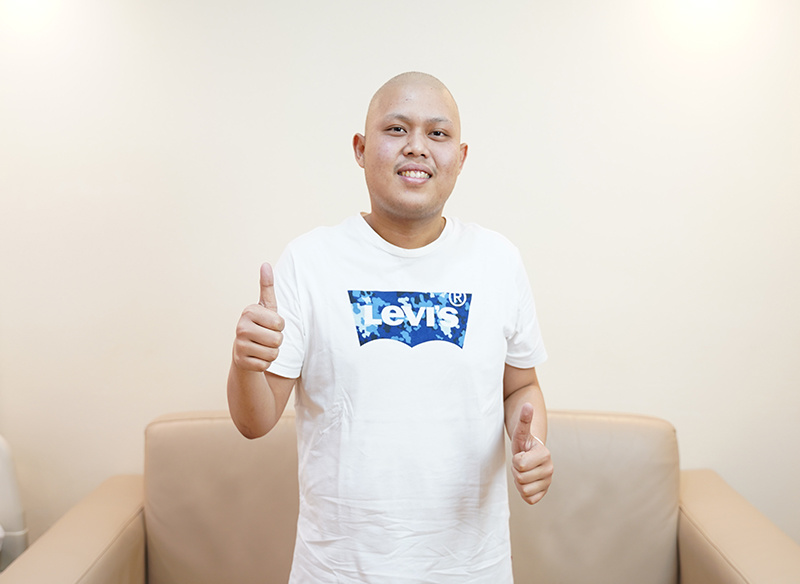 MELVIN FEBRIAN LUKITO Indonesia

Diseases:Lymphoma
Treatment programs:interventional therapy + intravenous chemotherapy +particle implantation
Cancer Became the First "Adult Gift" for an 18-year-old Sunny Boy
"In 2016, I started to feel pain in my lower limbs during my running exercise, which spread to my lower limbs, so I went to a local hospital in Indonesia for an examination and was finally diagnosed with lymphoma." MELVIN FEBRIAN LUKITO looked shy but calmly recalled the course of his illness under the camera.
For MELVIN 2016 was an important year in his life. This year, the ignorant boy had just knocked on the door of adulthood. It was a time full of life and hope. However, fate seemed to play a joke on him. An occasional pain that ended in a tumor diagnosis, and since then it began a long journey of seeking medical treatment. The local hospital in Indonesia offered radiation and chemotherapy. Considering the young age and the side effects, MELVIN and his family immediately refused and had no choice but to self-medicate with herbs. Until 2018, he was admitted to the hospital again due to unbearable pain, it was found that the lymphoma had spread to the whole body. Seeking effective treatment became an urgent problem for MELVIN FEBRIAN LUKITO and his family to solve. When asked why he chose St. Stamford Modern Cancer Hospital Guangzhou, MELVIN FEBRIAN LUKITO said that maybe it was a gift of fate. He accidentally found it on the Internet and was attracted by the advanced minimally invasive treatment technologies of our hospital. At that time, his body was already extremely weak. Need to rely on painkillers to relieve pain every day, St. Stamford Modern Cancer Hospital Guangzhou is a ray of hope in despair. The rapid spread of disease did not leave much time for them to think, and they didn't have much hope at first, and treatment is the only hope. The treatment result proved that choosing St. Stamford Modern Cancer Hospital Guangzhou was the most correct decision.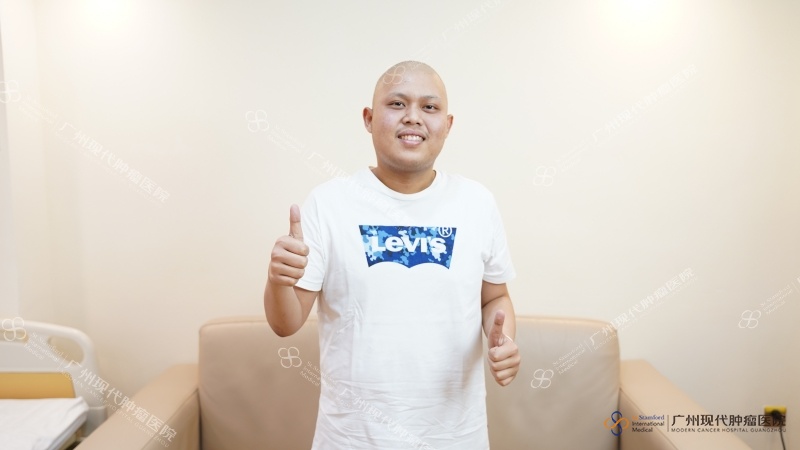 (MELVIN FEBRIAN LUKITO)
Minimally Invasive Treatment Helps the Teenager with Lymphoma Return to Normal Life
In July 2018, MELVIN FEBRIAN LUKITO came to St. Stamford Modern Cancer Hospital Guangzhou for the first time. The MDT medical team of our hospital formulated a personalized treatment plan according to his symptoms. Until July 2023, MELVIN FEBRIAN LUKITO came to our hospital again for follow-up consultation. During this period, after 8 times of interventional therapy + 8 times of intravenous chemotherapy + 3 times of particle implantation, his condition has been effectively controlled, and his symptoms have been relieved to a large extent. The results of the clinical diagnosis showed that more than 90% of the superficial tumor cells had disappeared, and most of the lesions that had spread throughout the body had disappeared. MELVIN himself was also pleasantly surprised that the pain in his whole body was relieved to a great extent. Painkillers are used to relieve the pain, which can be barely tolerated. Now, even without taking painkillers, he can study and live normally. Nursing staff also praised MELVIN FEBRIAN LUKITO's treatment effect visible to the eye. When he was admitted to the hospital, due to severe ascites, MELVIN FEBRIAN LUKITO's whole body was swollen, and he even had trouble breathing. Now he has returned to normal, and his whole body is full of energy.
When asked how he felt about the medical technology of St. Stamford Modern Cancer Hospital Guangzhou, MELVIN said that our hospital's advanced minimally invasive technology saved him from the harm of traditional surgery and chemotherapy, and he recovered quickly after surgery with obvious effects, especially the diagnosis and treatment mode of our hospital left a deep impression on him, He pointed out that local hospitals in Indonesia have different doctors who prescribe the checklist, interpret the report, and decide the treatment plan. During the period, not only the long waiting time will easily delay the patient's condition, but also cause the same doctor to have an incomplete grasp of the patient's condition, and the patient's examination will be repeated, the diagnosis and treatment mode of our hospital is that one patient is in charge of one expert, and the expert will inform the patient as soon as the examination results come out, and provide specific information for the patient. And adjust the treatment method in time according to the current situation of the patient. This diagnosis and treatment mode is very beneficial to the patient, and it is also an important reason why he achieved good treatment results in our hospital.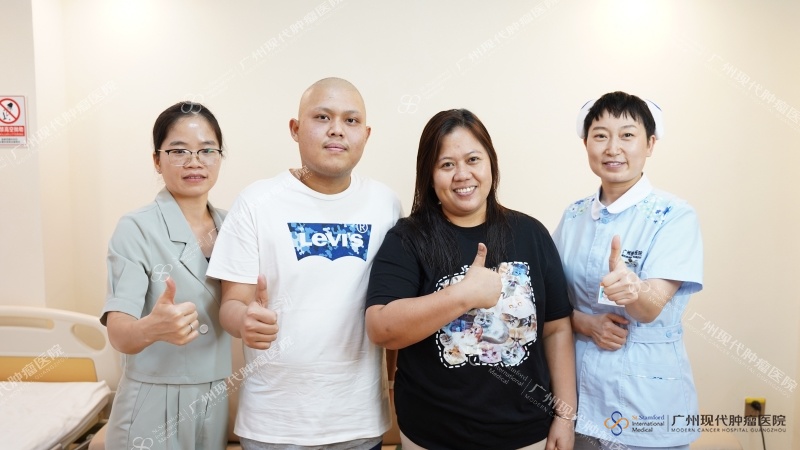 (MELVIN FEBRIAN LUKITO with his family and medical staff)
Successful Graduation and Successful Anti-cancer Double Harvest
"After finishing my graduation thesis, I will be discharged from the hospital soon," MELVIN's eyes brightened when he said this. The 18-year-old boy has now completed his first journey as an adult - after graduating from university, St. Stamford Modern Cancer Hospital Guangzhou has witnessed a boy from being young and ignorant to maturity, and also witnessed him from suffering from illness to gradually recovering, his life has just begun, like a rising sun.
At the end, MELVIN expressed his deep gratitude to the medical staff of our hospital. He thanked the doctors for their superb medical skills to help him gradually improve, thanked the nurses for their meticulous care, and thanked the translator for making him feel cordial and at ease, thanked to the blessing of fate for him to be associated with our hospital. At the same time, he wants to tell other patients that they must be positive and optimistic. St. Stamford Modern Cancer Hospital Guangzhou can help him and help more patients fight against cancer.