Precise minimally invasive treatment raise hope for 55-year-old mother with breast cancer and lymphoma metastases
Views:157
2023-10-21
Share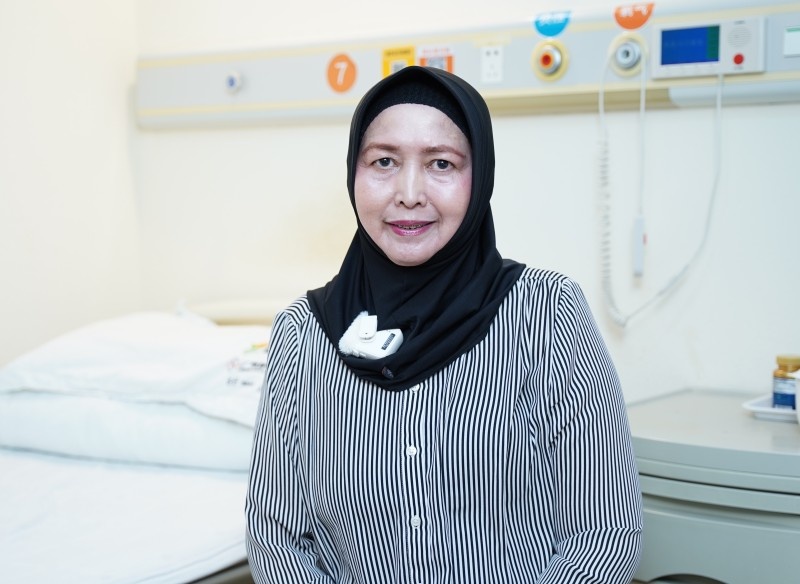 SAIDAH Indonesia

Diseases:Breast cancer
Treatment programs:interventional therapy + particle implantation
SAIDAH, 55 years old, comes from Indonesia, this is her fifth year of fighting cancer. She is not only a brave cancer patient, but also a great mother. When she was diagnosed with a lump in her left breast, SAIDAH made a firm decision to give birth to her baby before undergoing treatment. Fortunately, she recovered after receiving treatment at St. Stamford Modern Cancer Hospital Guangzhou!
Dilemma: Receive the treatment or save the baby
In 2016, SAIDAH felt a lump in her left breast and went to the hospital for a checkup, where she was told by the doctor that it's considered to be a malignant tumor, news that left SAIDAH, who was in the midst of welcoming her newborn baby, in a state of dismay. Since SAIDAH was in pregnancy at that time, and it would be twins.
It put SAIDAH in a dilemma: Should she choose to receive treatment or save her children? Her health status was on the one hand, and her adorable twins were on the other. In the end, due to the fear of affecting the growth of the twins, SAIDAH and her husband decided not to take treatment first. Soon after, the twins were born.
In 2018, SAIDAH's left breast lump increased in size and appeared to be broken and painful, so she went to the local hospital for examination, and the results suggested breast cancer. Hearing this news, SAIDAH almost passed out, thinking of the twins and her beloved husband and her family, SAIDAH's tears couldn't stop flowing, she was depressed.
But her babies and family were SAIDAH's Achilles' heel, as well as her suit of amour. The constant encouragement and support from them allowed SAIDAH to quickly pull herself together and actively fight the cancer.
SAIDAH was treated in hospitals in Jakarta and Malaysia afterwards, and the doctors gave the advice of taking mastectomy, but SAIDAH was afraid of such a surgery. In the meantime, SAIDAH's husband had been searching for other hospitals on the Internet, looking for other treatment options, hoping that his wife can receive the best possible treatment.
Upon learning about the minimally invasive technology of St. Stamford Modern Cancer Hospital Guangzhou online, SAIDAH and her husband immediately called the local Jakarta office for a consultation. "The doctor gave me a treatment plan based on my condition through remote consultation and also explained the principles of minimally invasive treatment. During this time, an interpreter was always available to help me communicate with the doctor, and eventually my husband and I made up our minds to go abroad for treatment." SAIDAH said.
Precise minimally invasive treatment
Initial victory for the mother of twins in her fight against cancer
In September 2018, accompanied by her husband, SAIDAH came to St. Stamford Modern Cancer Hospital Guangzhou, after a detailed examination, it showed that SAIDAH's left breast lump was about 12*7.5cm, and the diagnosis was: a malignant tumor of breast ypT4N2M0 (Stage IIIc), which urgently needed immediate treatment.
The hospital's MDT multidisciplinary team of experts quickly formulated a combined treatment plan for her: drug infusion intervention and cryotherapy to kill the tumor tissue accurately, followed by modified radical mastectomy on the left side of the breast plus axillary lymph node dissection combined with radiotherapy to eradicate the tumor.
Interventional therapy is to inject anti-cancer drugs directly into the tumor blood supply artery, so that the anti-cancer drugs can act directly on the tumor, and the drugs can be used with precision, and ultimately kill the tumor precisely;
Cryotherapy, on the other hand, employs a new technology, argon helium knife ablation, which rapidly freezes the tumor tissue into ice balls and ruptures the tumor cell membranes, thus completely destroys the tumor cells.
According to Dr. Zhao, after a series of interventional and cryotherapy treatments combined with radiotherapy, SAIDAH's lump slowly became smaller, and the pain in her left breast gradually relieved. when she was reviewed in 2019, it showed that the lump in her left breast, which was about 12*7.5cm in size, disappeared, and SAIDAH's fight against cancer had achieved an initial victory.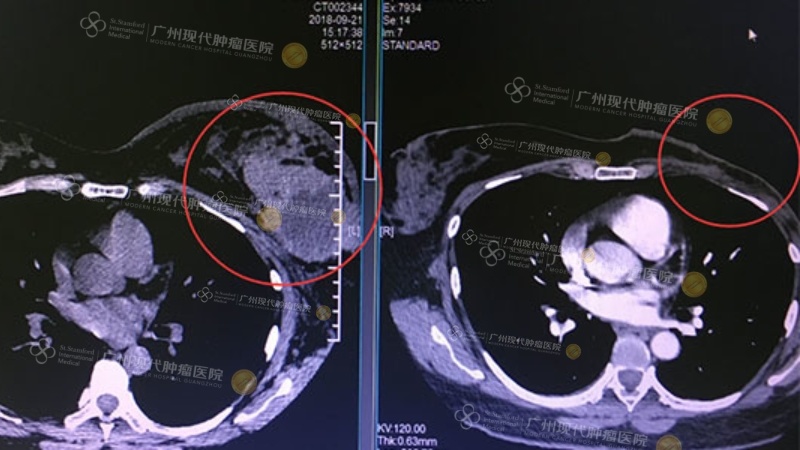 Left: September 2018 tumor images, Right: June 2019 images
Return to the hospital for follow-up after epidemic in the first time
Get remarkable results
According to the original treatment plan, SAIDAH's cancer could have been well-controlled with regular follow-up visits to the hospital. However, due to the pandemic, SAIDAH was unable to return for regular follow-ups and had to receive treatment locally in Indonesia. Because her heart could not receive large doses of medication, the local doctors did not intervene too much and the treatment was not effective.
During this period, SAIDAH felt pain in his left upper limb from time to time, and later he could not even move it. After learning that the pandemic had stopped in China, SAIDAH contacted the Jakarta office at the first time, hoping to return to the hospital for a follow-up visit as soon as possible.
In June 2023, SAIDAH and her husband set foot in the hospital again, and a repeat PET CT scan suggested a metastatic tumor in the left axillary muscle group, with the diagnosis of a lymph node secondary malignant tumor. In addition, due to the lymph node compression of the left arm nerves, resulting in limited movement of the left hand (after assessed, the left upper limb muscle strength grade 0), diagnosed as left upper limb paralysis. Fortunately, the breast review was favorable.
This time, after a comprehensive evaluation, the MDT multidisciplinary team of experts determined a combined treatment plan of interventional therapy and particle implantation for her.
After a period of treatment, SAIDAH's arm pain was significantly reduced, and his arm activity was significantly better than before, and he could do abduction activities. After review, SAIDAH's lymph node malignant tumor has been well controlled, and the muscle strength of the left upper limb has been improved to grade 3 (the grading standard of muscle strength is divided into 0-5 grades, a total of 6 grades, the higher the grade, the better). Seeing such a treatment effect, SAIDAH and her husband were very happy, saying that they did not choose the wrong hospital.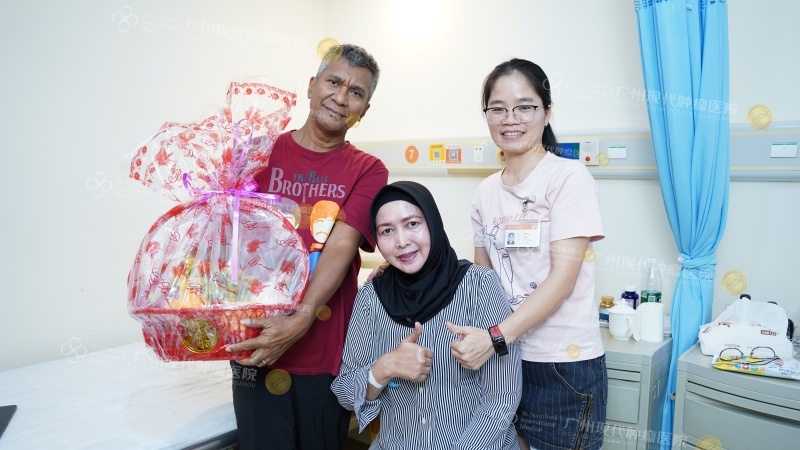 A picture of SAIDAH with her husband and interpreter
Thank you to the medical staff and best wishes to all in the fight against cancer!
"Seeing my body slowly recovering and getting better and better, the more confidence I have in fighting cancer!" Reflecting on her treatment, SAIDAH said, "I'm very grateful to the doctors and nurses here, who are always patient and caring, making her feel like a family member, especially the medical staff, such as Dr. Zhao and the interpreter, who provided her with impeccable care. At the same time, I am very satisfied with the comfortable environment here, so that I can receive treatment without any worries."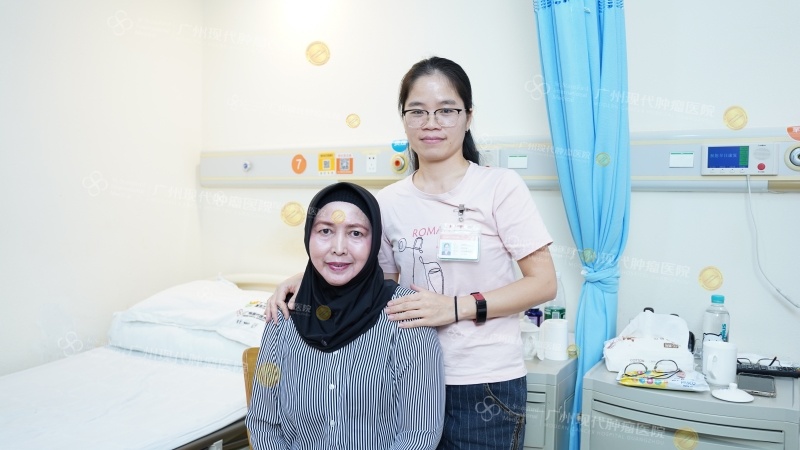 A picture of SAIDAH and the interpreter
For our partners who are also on the road to fighting cancer, SAIDAH would like to say to them, "On the road to fighting cancer, the most important thing is not to give up on yourself, to believe in your doctor, and to have confidence in yourself!"