Patient with 5-year Liver Cancer Felt The Beauty of Life Again Given by St.Stamford Modern Cancer Hospital Guangzhou
Views:149
2023-09-13
Share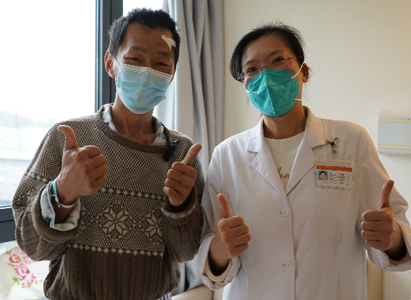 Mr. Xie Malaysia

Diseases:Liver cancer
Treatment programs:interventional therapy + cryotherapy + microwave ablation
"I am the first Southeast Asian who came to the hospital for treatment after the Covid-19 pandemic" said Mr. Xie with a proud face.
It was not the first time for Mr. Xie to come to St. Stamford Modern Cancer Hospital Guangzhou, and he had already received comprehensive treatment in the hospital in 2019. The worst condition was that the huge tumor in his left leg affected his movement and he had to use tools to complete his daily needs, and he was even pronounced by Malay doctors to live only 3-6 months. At that time, Mr. Xie did not give up hope of looking for treatments despite his fear and anxiety, and actively searched for other treatment channels, finally he was introduced by his friends to know that St. Stamford Modern Cancer Hospital Guangzhou in China could employ advanced technology for treatment. Mr. Xie cautiously made a multifaceted investigation and consultation and learned about the minimally invasive therapies such as interventional therapy, radiofrequency particles, the treatment process, and expected effects, and then immediately applied for a visa to fly to Guangzhou for treatment.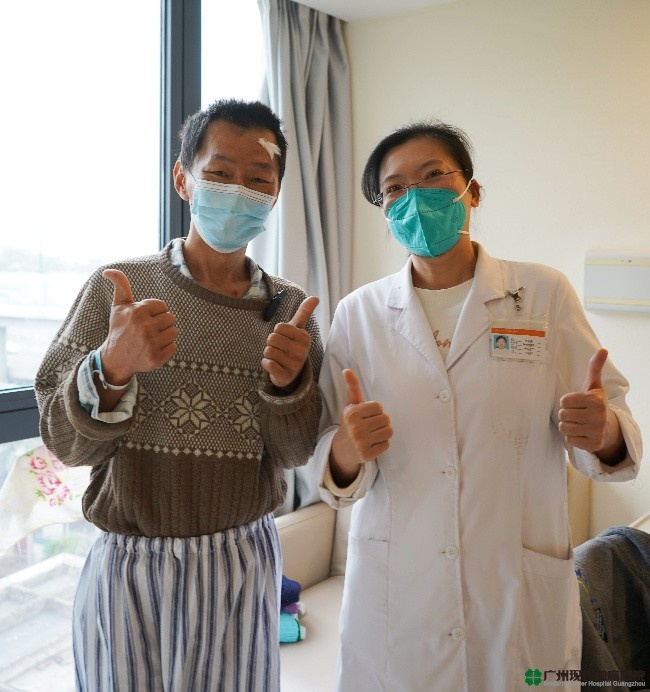 (Mr. Xie and his attending doctor)
The treatment in 2019 changed Mr. Xie's life dramatically. After admission, the MDT team of St. Stamford Modern Cancer Hospital Guangzhou tailored a treatment plan for him: interventional therapy + cryotherapy + microwave ablation therapy. Firstly, vascular intervention combined with embolization therapy is used to infuse anti-cancer drugs directly into the tumor, and then block the blood vessels supplying the tumor through an embolization agent to "starve" the tumor. Then combined with cryotherapy and microwave ablation therapy, the tumor cells will be ruptured and necrosed.
After systematic treatment, the 10cm tumor in Mr. Xie's left leg gradually relieved and did not have any physical and mental discomfort, instead, he had more and more smiles on his face because of getting effective treatment. In his last admission in 2019, Mr. Xie had a PET scan, and the report showed that necrosis noted in tumors of the whole body without any sign of recurrence, and the blood test report AFP index returned to normal.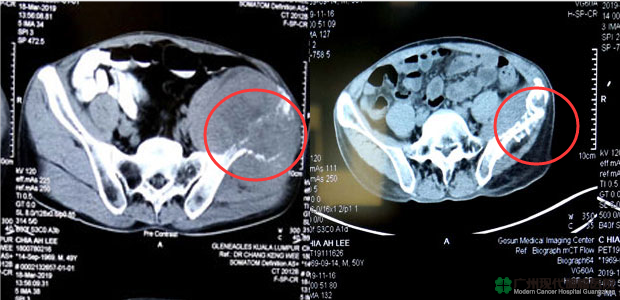 Pre-and-post-theraputic CT Scan of Hip Indicated Total Remission of the Iliac Tumor after Treatment
The doctor told Mr. Xie that he only needed to come to the hospital for regular follow-ups in the future and no longer needed to worry about the threat of the huge tumor in his body.
Life is always unpredictable, the Covid-19 pandemic that swept the world stopped Mr. Xie's follow-up. After 3 years of calm days, Mr. Xie inexplicably gained weight to 60 kg at the end of 2022, and had obvious discomfort in his liver part from time to time, although he had not gone to the hospital for examination, he knew something was wrong with his body. After the examination in the local hospital in Malaysia, Mr. Xie confirmed the fact that it was recurrence, but he could not come to St. Stamford Modern Cancer Hospital Guangzhou for treatment because of the Covid-19 pandemic, so Mr. Xie was anxious and helpless. "Perhaps it is the destiny that the news of China's gradual opening in December 2022 reached Malaysia, I immediately applied for a visa to prepare to go to the hospital for treatment, and colleagues in the Malay office also actively helped me to communicate and deal with related matters, and after three years, I set out for treatment again."
"The hospital environment is very different from that of three years ago, with new decoration inside and outside the hospital, it is more comfortable and cozy to live in. Doctors and nurses are also familiar, the three-year pandemic seems to be just a number, facing familiar faces makes people feel time is still." Mr. Xie happily mentioned. "As soon as I was admitted, Dr. Ma, Dr. Lin, and the nurses came to the ward to chat with me. The happiest thing in these years of treatment at St. Stamford Modern Cancer Hospital Guangzhou is not only the good efficacy but also the fact that I have met so many friends. Even in the three years when I could not come to the hospital for treatment, I still kept close contact with the doctors and nurses and chatted with them frequently. "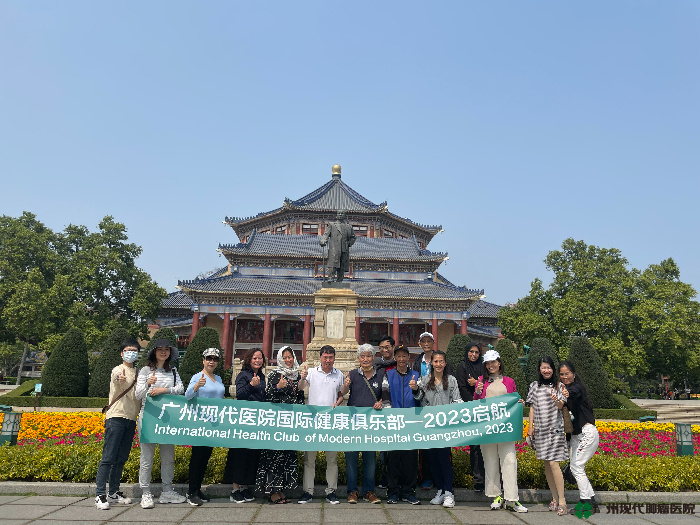 This is Mr. Xie's second follow-up consultation after the pandemic. The disease, which had been effectively controlled by treatment in 2019, was found to have metastasized extensively to the liver area through PET SCAN examination during the follow-up consultation in January, and there was a quite serious spread in his body, which is the reason made Mr. Xie's weight rise rapidly to 60 kg before. The MDT expert team of St. Stamford Modern Cancer Hospital Guangzhou immediately carried out consultation and analysis according to Mr. Xie's condition, and finally decided to adopt interventional embolization + microwave ablation + radiofrequency particles + gene-targeted therapy and other matching therapies to provide targeted treatments to his lesions.
Although the recurrence of the disease was aggressive, Mr. Xie kept an optimistic attitude because he trusted the medical staff and reliable technical devices of St. Stamford Modern Cancer Hospital Guangzhou which led him to overcome the liver cancer five years ago. After two systematic treatments, Mr. Xie no longer feels breathlessness and liver pain late at night, and his mental and sleep quality has been significantly improved. Mr. Xie said that the hospital gives him a ray of light at every dark moment of his life, which makes him very grateful.
"Although treatment will continue, I feel much better, during the month of hospitalization, doctors and nurses, and patients around me are very caring, often come to chat with me, share fruits and food with me, on the 5th I went out with friends in Guangzhou Zhujiang New Town to eat, walk and enjoy the splendid lights at night." Mr. Xie happily said, "On March 7, the hospital also arranged for us to visit the Guangzhou Uprising Martyr Cemetery, the Five Goats Statue, and the Shangxiajiu Pedestrian Street, all in this full-bloom spring. I feel the beauty and hope of life is coming!"