Immune cell therapy
Views:123
2023-10-27
Share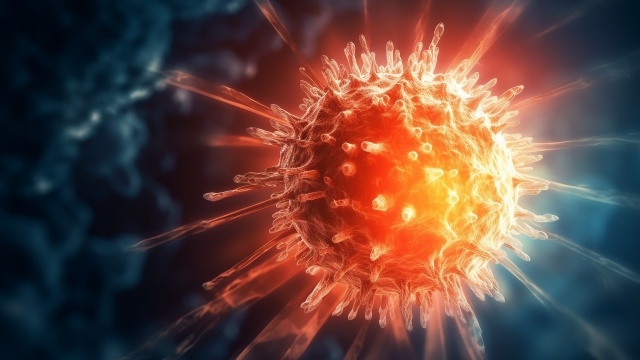 Applicable diseases:

Malignant melanomas, ovarian cancer, colon cancer, breast cancer, cervical cancer, lung cancer, liver cancer, stomach cancer etc.
Technology advantages:

Regulate autoimmune system to enhance the effect on anti-cancer, broad-spectrum in anti-cancer, long-lasting efficacy and low toxicity.
Present condition of cancer treatment: 63% of cancer patients die from treatment mistakes.
Cancer is seriously harmful to human life with high malignant degree. According to medical data statistics, a person gets cancer every 4 seconds in average, and about 8.2 million die of cancer per year all over the world. It is predicted that the death rate of cancer will be double by 2030.
However, cancer is not equal to death. Among the causes of death, it is reported that about 63% of cases are caused by medical mistakes. Conventional treatments including surgery, radiotherapy and chemotherapy not only kill cancer cells but also normal cells, hastening death.
Causes of Death(Remark: The data are from Cancer Review)
Treatment mistakes, poor medical treatment, misunderstanding, treatment procrastination, treatment abandoning, insufficient money.
Why do cancer patients need to take immune cell therapy?
Conventional cancer treatments (surgery, radiotherapy, chemotherapy) kill cancer cells in a simple way without concerning the root cause of cancer cells. Besides, conventional treatments do harms to patient's community. The most effective method is to recover patients' immune system so as to eliminate cancer cells by autoimmunity. ---- Ralph Marvin Steinman (Winner of the Nobel Prize in Physiology or Medicine in 2011)
In 2011, Ralph Marvin Steinman won the Nobel Prize for finding dentritic cell (DC) and its crucial role in immune response. Later, another two scientists also won the Nobel Prize in the area of immune cell. From then on, more and more medical specialists use immune cell therapy for treating cancer. Thousands of cancer patients gain hopes because of it.
How does cancer come into being?
Normally, 6,000-10,000 cancers are produced in human body every day. Immune cells can swallow and eliminate them to keep body healthy. However, when human immunity weakens, the capacity of eliminating cancer cells was not strong enough, so cancer cells will aggregate to attack normal cells and form focus, and finally, it becomes cancer.
There are three stages of cancer development:
(1)Immune system detects and destroys cancer cells before they become threats to health.
(2)Immune system has killed some cancer cells, but some survive, which cannot be recognized. In this stage, cancer cells and the normal are in balance.
(3)The others escape from immune system and proliferate, forming tumor that can be detected clinically. In this stage, immune system cannot control and inhibit the growth of cancer.
How does immune cell therapy treat cancer?
Immune cell therapy suppresses cancer growth by improving immunity, which is a fundamental method to fight against cancer. It can be divided into five steps.
Firstly, immune cells attack tumor tissue rapidly and form targeted spot towards the tumor. Secondly, immune cell therapy boosts immunity maximally to inhibit cancer growth. Thirdly, they changes microenvironment around cancer cells to prevent their development. Fourthly, nutrition supply of tumor was blocked so as to reduce tumor activity. Lastly, the development of cancer cells is waning till stop, and then they die.
What are the advantages of immune cell therapy?
(1)Due to the special property of immune system, immune cell therapy possesses more potential than the present treatments to fight against cancer, which can provide long-term protection to body without obvious side effects.
(2)Systematically beat cancer.
(3)Immune system only recognizes and kills cancer cells.
(4)Immune activation is valid for life.
(5)A therapy for various cancers.
Immune Cell Therapy VS Traditional Treatment


Treatment

Side effect

Protection during the treatment time

traditional cancer treatment

1. Use drugs or radiotherapy
2. Kill tumor cells, but also kill healthy cells.

Affects normal cells, reduces immunity, and many other side effects

ongoing protection

immune cell therapy

1. A biological therapy used to treat cancer and other diseases that uses the patient's own immune system or modified immune cells to fight the disease.
2. Enhance or adjust the function of the immune system so that it can more effectively identify and attack abnormal cells, such as cancer cells or infectious pathogens.

Few side effects

Treatment starting point and end point

Application of Immune Cell Therapy
(1)Pre-operation: improve success rate
For patients in the early stage, immune cell therapy is able to boost patients' immunity completely and avoid the decrease of immunity caused by surgery, so success rate of surgery is improved.
(2)Combined application: comprehensive treatment improves treatment effect
For patients in the middle and advanced stage, immune cell therapy can be combined with radiotherapy, chemotherapy, cryotherapy, interventional therapy etc to make better effect.
(3)Post-operation: eliminate remaining cancer cells and reduce recurrence rate
Patients, who have received radiotherapy, chemotherapy or minimally invasive therapy, are advised to take immune cell therapy to recover and strengthen antitumor capability, eliminate remaining cancer, reduce recurrence and metastasis, and improve the success rate.
(4)Use alone: prevent cancer
Those who have family history or have suffered from cancer should take immune cell therapy regularly, which can recognize, seek and kill diseased cells and viruses in the body. It aims to help rebuild immunity and prevent cancer.
Applicable diseases:
Malignant melanomas, prostate cancer, kidney cancer, bladder cancer, ovarian cancer, colon cancer, rectum cancer, breast cancer, cervical cancer, lung cancer, throat cancer, nasopharyngeal cancer, pancreatic cancer, liver cancer, stomach cancer etc.
Immune cell therapy can be used as further therapy for the above cancer to prolong survival time and improve life quality.
To know which patients are not suitable to take immune cell therapy, click to consult on online now.
Patient Story
Gastric cancer

Nguyen Thanh Tung
Vietnammore than 6 years

Nguyen Thanh Tung, from Hanoi, Vietnam, when he appeared at the "2023 Anti-Cancer Star Volunteer Back to Base" event held by our hospital, no one c...
Cervical cancer

Fei Fei
Indonesiamore than 7 years

"I believe in God and be grateful for everything, even cancer. Since this is a necessary trial in my life, I choose to be optimistic. I have cancer, bu...