Interventional Therapy Gives a New Life to a Thai with Lung Cancer
Views:174
2023-09-13
Share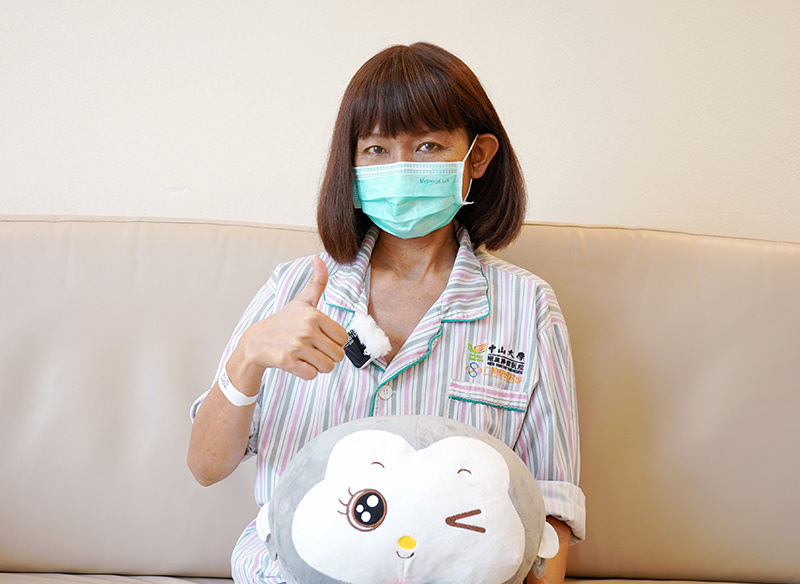 Ms. Manussawan Thailand

Diseases:Lung cancer
Treatment programs:interventional therapy
Return for Follow-up Immediately After the Covid-19 Pandemic
"Hearing the news of China's reopening, I immediately made up my mind to come back for a follow-up," said Ms. Manussawan, a lung cancer patient from Thailand, facing the camera with vigor on her face, her mental state was totally different from that when she was first admitted. It has been already more than three years since she first came to St. Stamford Modern Cancer Hospital Guangzhou, but when she heard the news of China's reopening, she still applied for a visa and came to our hospital without hesitation as she did the first time. "Because of the first treatment experience in this hospital, I have confidence in the treatment technology and the medical services. I was very happy when I learned that China reopened after the pandemic."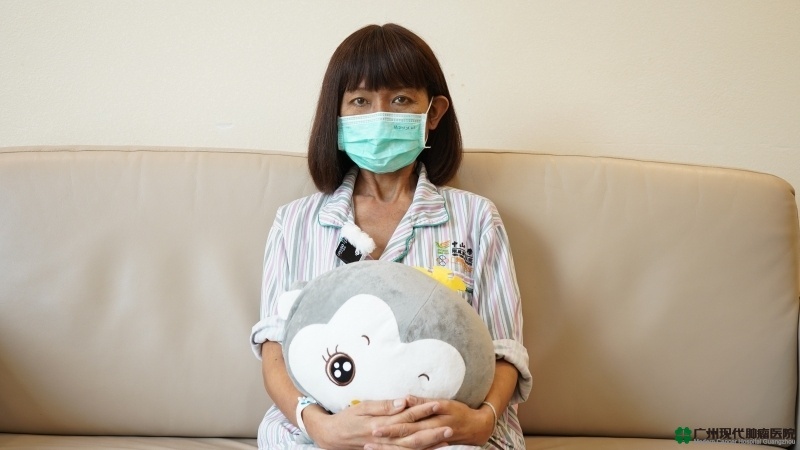 (lung cancer patient Ms. Manussawan)
Ms. Manussawan started feeling pain in the lumbar vertebrae and the right lower extremity on January 1, 2020, and the pain is not relieved after rest, so she went to the local hospital in Thailand for a series of examinations. Unfortunately, she was told that she had lung cancer on January 27, and although she had been in and out of the hospital for almost a month, she was still shocked and scared when she was finally diagnosed. As it is better to treat cancer early than late, Ms. Manussawan and her family did not hesitate for a moment to seek treatment at St. Stamford Modern Cancer Hospital Guangzhou on the second day after her diagnosis.
Before coming to our hospital, Ms. Manussawan and her family had done researches on our hospital and also compared it with famous oncology hospitals at home and abroad, and finally, they were attracted by our advanced medical technology and humanized medical services. At the same time, she consulted her friends who had come to our hospital for treatment before, and her friends' treatment results greatly encouraged her. After her first series of treatments in our hospital, Ms. Manussawan had a remarkable effect. She was supposed to live a normal life and follow the doctor's advice to return to the hospital regularly. However, the pandemic changed every thing, China was forced to close its door, and Ms. Manussawan's foreign medical trip was also blocked. The three years of the pandemic were also the three years of her difficult journey against cancer.
12 Continuous Chemotherapy Sessions have Overloaded the Body
When talking about the reason for resuming her journey to seek medical treatment abroad, Ms. Manussawan described her health condition and treatment status during the three years of the pandemic: she was unable to return for regular follow-up during the pandemic, and at the end of 2021, her spine started aching again, so she went to a local hospital in Thailand to receive up to 12 times of continuous whole-body chemotherapy, and all her skin was burned, and her face and other parts of her body turned black due to melanin deposits. Her medical condition was repeated and was not improved. "Although the side effects of systemic chemotherapy were beyond my body's tolerance limit, I was suffering from the lack of other treatment options, so after hearing that China reopened after the pandemic, my husband accompanied me back to St. Stamford Modern Cancer Hospital Guangzhou for a follow-up consultation at the first time".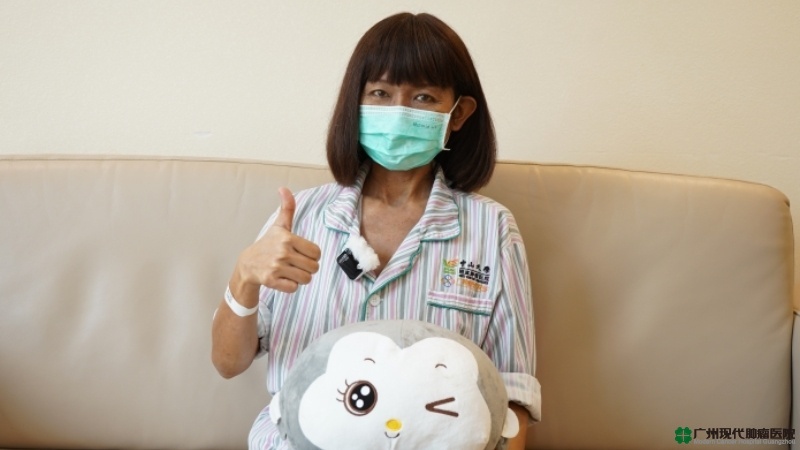 Interventional Therapy and Microwave Ablation Shrank Tumors by 80 Percent
During the follow-up , our doctors developed an individualized treatment plan for Ms. Manussawan based on her condition. After a comprehensive analysis of her condition, physical status, and response to the treatment plan, the doctors decided to treat her with interventional therapy and microwave ablation. Interventional therapy is a minimally invasive treatment under medical imaging equipment, which only requires a 1-2mm incision without a surgery to expose the lesion, puncture under the guidance of medical imaging equipment, introduce customized catheters, guidewires, and other precision devices into the tumor, infuse anti-tumor drugs into the tumor, and embolize the tumor itself and its blood supply arteries, "embolize" the blood vessels supplying the tumor, so that the tumor loses its blood supply and thus " starved to death".
At the same time, the embolic agent can carry the anticancer chemotherapeutic drugs into the tumor and play the role of slow release and local chemotherapy. Microwave ablation, on the other hand, is to puncture the ablation needle into the tumor under the guidance of imaging, and input microwave to make the polar molecules in the tumor tissue move at high speed under the action of microwave field to generate heat, and when the temperature rises to more than 60℃, the tumor cell protein is denatured and coagulated, leading to its irreversible necrosis. At the same time, microwave ablation has the effect of stimulating the immune system, improving immune function, and preventing the metastasis of cancer cells.
The biggest advantage of these two minimally invasive treatment methods is that they are less invasive, with fewer side effects, and have quicker recovery, which can minimize the trauma and pain of patients and improve the treatment effect at the same time. When asked about Ms. Manussawan's satisfaction with the treatment plan and the treatment effect of this follow-up, she replied briskly, "This treatment has shrunk my tumor by 80%, and the unbearable pain has basically disappeared. Now I can walk normally, sleep with my leg flat at night, sleep better, and have an appetite, and I feel very energetic." The recognition of patients is the greatest encouragement to the medical staff. St. Stamford Modern Cancer Hospital Guangzhou has a multidisciplinary medical team (MDT team), which breaks through the traditional diagnosis and treatment mode of only one oncologist and brings together doctors from different departments to provide comprehensive, accurate, and scientific diagnosis and develop personalized treatment plans for patients, striving to improve patients' quality of life and enhance their dignity of life.
Being Grateful to the Doctors and Nurses for Their Excellent Care and the Support of My Family
Finally, Ms. Manussawan said that the medical staff have accompanied her throughout the treatment, actively communicated with her, cared about her physical condition and psychological state, and they not only provided her with professional medical services but also gave her thoughtful care and attention. She deeply felt the sincerity and dedication of our medical and nursing staff, and she expressed her gratitude for the support and assistance she received from them and her family. She said, "I am very grateful for your help and support during this special time. You have made me feel the true love and warmth of human beings and made me more confident to overcome the disease and regain health." At the same time, Ms. Manussawan would like to tell patients who are still struggling to seek medical treatment that St. Stamford Modern Cancer Hospital Guangzhou has advanced medical technology and modern medical services, which can protect patients' health to the greatest extent, and hopefully will become the first choice of more and more patients on their way to fight against cancer.